A stronger community
Upperclassmen create a new club to try to incorporate God more in each athletic team.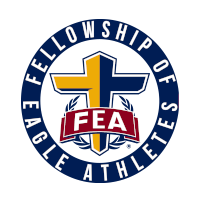 Balancing a religious life, sports and academics are challenging for many students. However, senior Andrew Concialdi, junior John Grayson, junior Kennedy Ellison, and junior Jordan Werkmeister have managed to combine God and student athletics all into one club. These students call themselves "the core four."
The SMCHS FEA is a student-run club that alerts students of upcoming school athletic events as well as incorporating God into sports. Ms. Rodriguez mentors the club.
The founders of FEA try to attend every sports event and post via Instagram to get more support for each team. Students become involved by contacting the founders of FEA or coming to their monthly huddles. These huddles consist of fellow students who are also trying to be on the path to God.
"These huddles will involve large big time speakers talking about adversity regarding sports," Rodriguez said. "These speakers will not only talk about sports but about God as well.
In previous years, it was hard to know what athletic events were going on a day-to-day basis and to have a strong community at these events. Concialdi and his peers hope this club eliminates this problem.
Werkmeister hopes to bring students together with the main goal to spread the word of God. Coming from a different school this year it was hard for W to make the transition but being able to create and be a part of SMCHS FEA made it a little easier.
"We're trying to show our athletes and our students all cross campus how and what God, life, and sport consist of," Werkmeister said.
Concialdi and Ellison both found inspiration through their own experiences. Concialdi saw through peer ministry how to become a religious servant and how to be a good role model for others. Ellison saw how other school church clubs incorporated sport and God. Ellison did more research on these clubs and saw they were popular local and globally. These clubs range from the high school level to the professional and Ellison realized SM did not have a club like this.
"We felt that SM was missing this key part of their campus so the four of us got together to establish this club at SM over summer," Ellison said.
SMCHS FEA aims to show the meaning of Caritas Christi. Each sport has their own ambassador and leader to help lead the team in their sport and to God through Bible verses and example.
"We plan for those student ambassadors to reach out to their fellow teammates, students, classmates, peers, teachers, coaches, you name it," Rodriguez said. "We want to get kids from all walks of life."
To get involved in SMCHS FEA, follow @smchsfea on Instagram and direct message them for any information or to let them know about any upcoming school events. Email any of the student founders of this club or stop by G1 in activities to talk to Ms. Rodriguez.