Father daughter social
Fathers and daughters spend a night at Angel Stadium.
Santa Margarita dads and their daughters enjoyed a night to remember while  the Angels took on the Boston Red Sox on April 17. This social replaced the Father-Daughter Dance from years past, and brought a fresh approach to the classic event that fathers and their daughters could be apart of.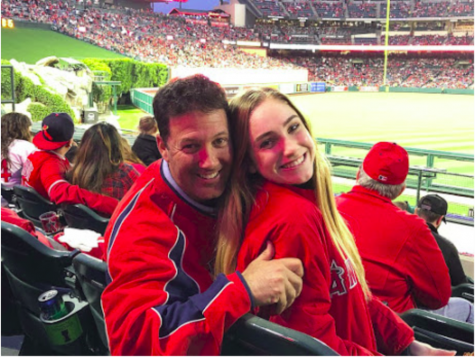 Sitting behind center field, the duos got a perfect view of all the action.
Junior Gracie Concialdi and her dad, Steve, were able to enjoy a fun night together, wearing matching Angels gear in their seats behind left field.
"I loved being able to go to an event like this with my dad," Gracie said. "I do not get to spend as much time with him as I'd like, but tonight was a perfect excuse to be with him."
70 pairs attended the event, and were greeted with a full dinner, and a hat and blanket included in the ticket purchase. Although the Angels lost, as the Red Sox swept them 10-1, fathers and daughters were able to spend a night together in a fun setting with as many rounds of popcorn and pretzels as they wanted.
Senior Audrie Miller and her dad, Ken, also watched the Angels with the group that night. It was the first father-daughter event they had attended.
"Dads are really underappreciated," Audrie said. "They want to hang out with us, and this event was a perfect example of that."
The next father-daughter event will be in the spring of next year, and will have to top all the fun of this year's.