SMbld Robotics' new training plan
Luke Soliman, ETV Liason
Nov 9, 2022
The Santa Margarita robotics team created a new curriculum to train incoming students and prepare them for their season ahead. The pre-season curriculum includes machining, computer-aided design (CAD), electronics, and programming. After teaching the four topics, the students will use the knowledge they learned to collaborate and create a robot.
"Students will learn more about a topic during the in-depth week and off-season project," said leadership member Ryan McClintick. "Additionally, we pride ourselves on giving these curriculums to the public, which can be found on our team website."
During the In-depth week, students can select one of the four subjects taught and learn more about that subject. The goal of the In-Depth week is to transition into the project with a heightened understanding of the four topics.
Robotics newcomer, Jordan Parducho, said, "The training plan has allowed me to get a sample of each topic and help me figure out which topic I am more drawn towards. Furthermore, It has also allowed me to feel prepared for the season and what's to come."
At the end of the curriculum, the newcomers will split off into two teams and create unique robots that will compete against each other. The objective of the robots is to shoot whiffle balls into a ski-ball target and score as many as they can in a fixed amount of time. As a result, this makes students feel engaged and excited while creating a robot using their learned knowledge.
McClintick said, "The end goal of the curriculum and the project is to make the newcomers have fun, feel comfortable, and make them prepared for the season next year."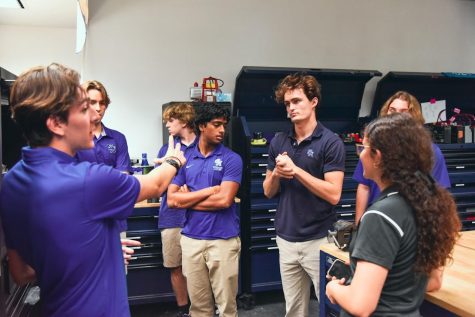 –