A Potential Second Concussion Suffered By Tua Tagovailoa Presses The Need For Change In The NFL's Concussion Protocol
First Tagovailoa Concussion:
On September 25th, Miami Dolphins quarterback, Tua Tagovailoa was taken to the locker room after being slammed head-first to the ground.
In this event, Tagovailoa stumbled getting up, which caused him to get pulled from the game. Following his exit, the Miami Dolphins' official Twitter account reported that Tagovailoa had suffered a head injury. As a result, most people expected Tagovailoa to be out for the game. However, Tagovailoa was back under center after halftime.
Those familiar with the NFL rule book note that the stumble that Tagovailoa had was "considered a display of gross motor instability, which is one of the protocol's "no-go" symptoms that requires a player to be removed from a game without the possibility to return," ESPN writer Marcel Louis-Jacques writes.
After going through concussion protocol, the team's physician reported that Tagovailoa's stumble was due to back and ankle injuries.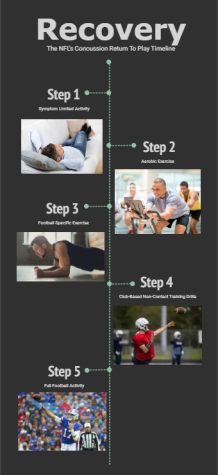 Many still questioned why Tagovailoa was allowed back into the game, but these questions died down as the Dolphins prepared for Thursday Night Football. Tagovailoa was questionable coming into the contest with the back injury but ended up suiting up.
Second Tagovailoa Concussion:
With 5:43 left in the 2nd quarter, Tagovailoa was slammed into the turf a second time, his fingers cramped up into place, and a stretcher carted him away.
Physiatrist, Dr. Brian Sutterer, spoke about his concerns about Tagovailoa's injury.
"What we just witnessed in Tua is a clear sign of head trauma," said Dr. Sutterer, "[There is] a combination of whiplash [with] his head striking the turf, [which is] a clear mechanism for brain trauma."
Sutterer described why Tagovailoa's fingers were stuck in place and why that is a clear sign of a concussion.
"Tua's hands [were] contorted awkwardly in what we call posturing," said Sutterer, "These abnormal posturings occur in the setting of significant brain injury."
He later mentions the risk for second impact syndrome, a second impact to the head.
"This syndrome is extremely rare but can be extremely serious," Sutter said.
Lesson:
Fortunately, Tagovailoa avoided some of the brutal consequences he potentially could've faced with these injuries. The lesson from this potentially scary situation should not be taken lightly. Despite the pressure for NFL organizations to win games, player safety must come first. Head injuries, if significant, can have major effects on a player's career and entire life. Not only is risking health a major issue, but the overall view of football has changed. Incidents like these cause people around the world to avoid playing the sport due to the misjudgment of priorities.
The players want to play, but it is the responsibility of those around them to prioritize their safety.