The Eagles football season is back
The Santa Margarita Eagles football season contines as they start the season 2-0 with big wins against San Juan and Norco.
The Eagles Strong Start to the Season.
The Eagles football team picked up an 18-8 win against the San Juan Hills Stallions in their opening game and a 36-14 win against the Norco Cougars this past Friday.  Their impressive win against Norco shows their amazing improvements this season after losing 40-22 against them last year. With MaxPreps ranking the Eagles at #7 in California, they have a lot of hype to live up to.
Read more about the Eagles' strong start in XC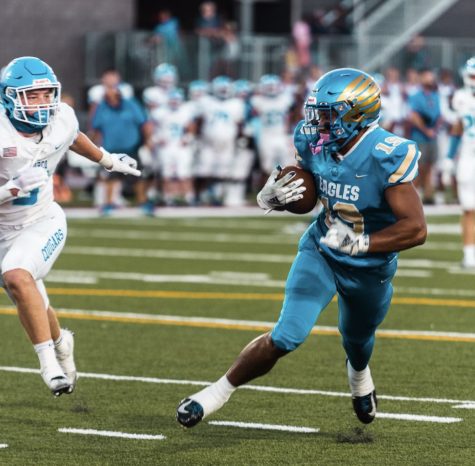 The Players are Stepping up to the Challenge
Collins Acheampong has been a standout addition to the Eagles roster. Acheampong had a boasting 11 tackles and 2.5 sacks to start his season. Strong contributing defenders like Ben Durham, Jake Bower, Noah Sulick, and Donovan Comestro have been playing phenomenal football and showing why the Eagles are a force to be reckoned with. While things are looking great on the defensive end, opponents cannot forget the Eagles' offense. Star quarterback Jaxon Potter threw for 286 yards and 4 touchdowns against Norco. Potter has been making plays to 4-star wide receiver Emmett Mosley and Colorado State commit Niko Lopez. With Mosley and Lopez combining for 140 yards and 2 touchdowns against Norco, it would be hard not to believe in what this Eagles offense can do.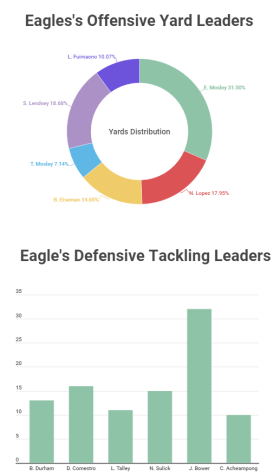 The Eagles have been working hard to make their mark on the Trinity League this season. When asked about their preparation this offseason, defensive end Chris Furlong said, "We've been working really hard. This summer we played in four 7-on-7 tournaments. The defensive guys have been putting the work in and we're ready." The Eagles are hungry for more and can expect to do great things this season. Only time will tell what the Eagles can do to capitalize on the season with their stacked roster and exceptional coaching staff.