Girls volleyball hits the beach
With the addition of sand courts on campus, the girls volleyball program expands to include beach volleyball in the spring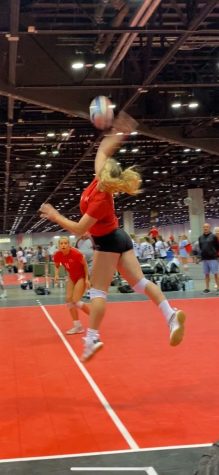 After a unanimous decision from the CIF Federal Council in early 2021, girls' beach volleyball became an official CIF sport.
While indoor volleyball is a fall sport, beach volleyball will make its debut in the spring to accommodate those who would like to participate in both. 
"We are going to have to adapt to all of these new circumstances," said junior Jenna Gallaway. 
Compared to indoor volleyball with six players from each team on the court at once, beach only has two players per side. Because of this, each player must cover a greater area.
"It is more satisfying in the sand because you are more responsible for each of the plays," Gallaway said. 
Training for the sport will also require greater stamina since there are more factors at play. Most notably, the sand creates another hindrance to the players' performance, and communication between partners is imperative for successful outcomes. 
"You truly have to know your partner's weaknesses and their strengths, so it's really nice to be able to build that bond and become close with them on and off the court," Gallaway said. 
This is a fresh start for the girls' volleyball program as beach volleyball teams also have the opportunity to play in year-round leagues in preparation for the collegiate level.
"Beach volleyball is completely different from indoor and I'm looking forward to being outside in the sun, in the sand, and really just experiencing something new," Gallaway said.