Creative costumes
SMCHS' seniors go all out for Halloween to make the most of their last year of high school.
Trick-Or-Treat! SMCHS seniors got crafty with their costumes for Halloween to be able to enjoy their senior year.
Halloween looked a little different this year compared to previous years. Due to the health and safety guidelines, seniors went above and beyond with their Halloween creativity.
"I enjoy dressing up for Halloween this year because it's really fun to step out of my box, and be something funny outside of just my normal self," said Senior Mackenzie MacMillan.
Dressing up for Halloween allows students to take a break from their responsibilities and have a fun night. Students can be something anything they want and utilize their imagination.
Costumes became an enjoyable way to celebrate Halloween due the unique circumstances, health guidelines, and safety regulations of this year.
"Halloween was really different this year because there were not as many kids trick-or-treating and the Halloween party sizes were smaller due to the pandemic, but it definitely made me appreciate the people I spent it with," said MacMillan.
From group costumes, to stand out individual costumes, to couple costumes, seniors celebrated in a variety of looks.
"My favorite part of the night was seeing everyone's best friends matching each other, smiling, and having fun together," said MacMillan.
After being separated from one another for so long, Halloween was an opportune way to reconnect the senior class. Bonding over each other's costumes, seniors were ecstatic to finally see one another.
"I got to celebrate Halloween with my best friends which was really fun, especially because it's my last year home celebrating," said MacMillan.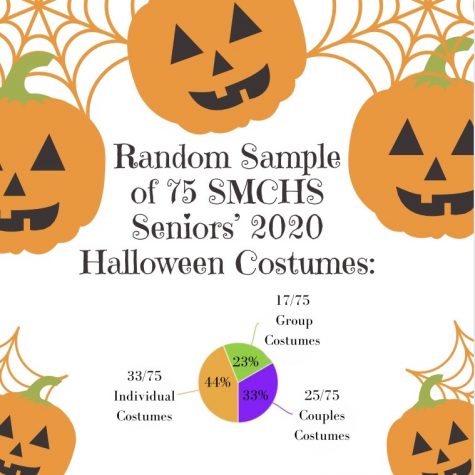 Seniors were grateful to have a memorable Halloween because of their current lack of high school experiences. No matter what happens, the senior class is looking forward to creating a memorable senior year.