Brittney Griner is Home!
Brittney Griner has been Released
Popular WNBA superstar Brittney Griner has been granted permission to come home after president Joe Biden secured a prisoner swap between Griner and notorious Russian arms dealer Viktor Bout.
Griner has been detained since February 17th after allegedly carrying a hashish oil vape cartridge in her luggage while traveling to Russia to begin her EuroLeague season with UMMC Ekaterinberg. A month later, the Russian court extended Griner's detention until May 19th.  Approaching her release from the extended detention, the court extended her detention for another 30 days.
Bringing Griner Home
The uncertainty of when Griner would be released brought concerns to many Americans. The U.S. government deemed Griner as "wrongfully detained" and began negotiations to get her back on American soil.
Her trial began on July 1st, where she would be represented in court by Russian lawyer Aleksandr Boikov. Boikov anticipated the trial to last around two months. A week after the trial began, Griner pleaded guilty to smuggling drugs into the country. Nearly a month later, on August 9th, Griner was sentenced to nine years in prison and fined $16,300.
President Biden and U.S. Secretary of State Antony Blinken contacted Griner's wife, Cherelle Griner, to assure her that they would make full efforts regarding the release of Brittney.
The Russian Penal Colony
After Griner's appeal was denied on October 25th, she was transferred to a female Russian penal colony called IK-2. Throughout November, Griner was forced to endure harsh living, weather, and working conditions that kept her isolated from civilization. Griner reportedly faced homophobia, racism, and 12-18 hour workdays while trapped in IK-2.
Griner's Taste of Freedom
On December 8th, after 294 days of being imprisoned in Russia, Griner was released and free to come home after Biden negotiated an exchange between her and Bout.
Just 10 days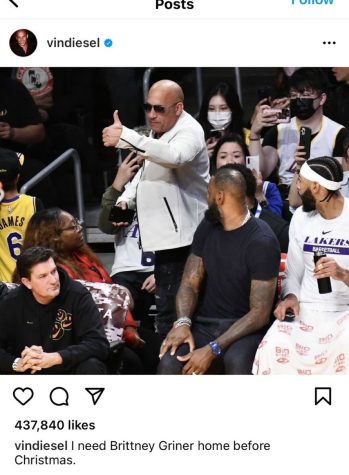 before her release, popular movie star Vin Diesel made an Instagram post saying, "I need Brittney Griner Home before Christmas."
Many fans are facetiously attributing her freedom to the works of the great Vin Diesel! Millions of fans are rejoicing with Griner's release, and many anticipate her return to stardom with the WNBA.