Racing to state
The girls varsity cross country team goes to state for the first time in over five years.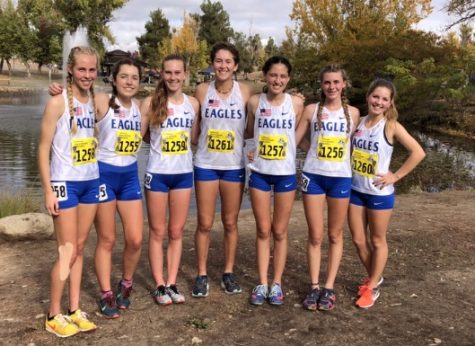 The gun fires and the runners take off. It's mile one and the nerves are dying down as they find their pace. Mile two hits and there's no looking back now. Each girl picks up her speed as she prepares for the final mile. This is it– muscles straining and hearts beating fast, mile three approaches. They begin their final sprint to the finish line.
On Saturday Nov. 24, the girls varsity cross country team traveled to Fresno, Calif. for the State Championships at Woodward Park. This season, the team placed second in Trinity League and seventh at CIF Finals, taking them to the next level of competition.
"We've been preparing for [state] since June with lots of miles and hill repeats," said sophomore Kendall Seager.  "I definitely think that Dove, Robinson and all of the other hilly runs around the school prepared us well for the hills on this course."
This is the first time that the girls have gone to state in over five years. They placed 11th overall out of 26 competing schools. Cool weather, dirt and asphalt conditions marked the running trials. The biggest hill was about one and three-quarters of a mile in.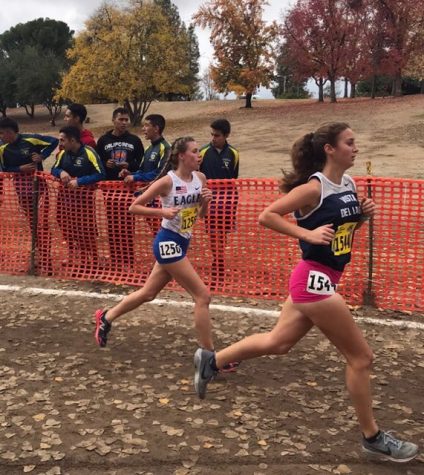 "I was definitely nervous on the starting line because lining up next to some of the fastest teams in California was pretty intimidating," said senior Sophie Getz. " The race itself was challenging both mentally and physically, but I kept reminding myself to enjoy the experience since it was my last high school race."
While Getz finishes her running career at SMCHS, Seager still has two more years to take the girls cross country program to the next level.
"Right now I'm super excited for track season, but I'm already looking forward to next cross country season," Seager said. "I can't wait for another summer of tough training, another trip to Colorado, lots more speed workouts and another chance to go faster on all of the courses."
With one last track season ahead of her, Getz is grateful for the experiences and opportunities the cross country program has given her.