Crazy for robotics
Robotics provides students with a valuable experience and a competitive edge.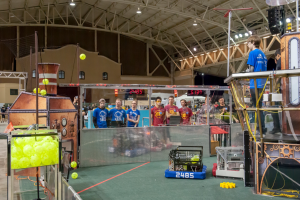 Competing in two tournaments a year, the robotics team designs and builds specific robots for each competition, however, the team also builds robots for fun, not just the competitions.
The team is currently building a t-shirt shooting robot and plan to use it at future sports games and pep rallies. These varieties of robot designs and the exciting atmosphere of the tournaments is what encouraged senior Jordan Jennison to join the team in her junior year.
"After hearing about the robotics team on ETV, I thought it was cool, " Jennison said. "But after attending an off-season tournament last year I knew I wanted to be a part of the robotics team."
The robotics team has won two design awards, a create award and two judge's awards. In these competitions, the team has won the Rookie All-Star Award, qualified for World Championships, and won the $10,000 Matt Grob Innovation Award.
During competitions, Jennison loves seeing her detailed designs from the computer model come to life.
"When you see the actual 3-D robot functioning how you planned on the computer, you are filled with an immense pride and sense of accomplishment," Jennison said.
From being a member of the team, Jennison has learned programming, machine work and the use of SolidWorks, which is an engineering program many companies use to design their products.
"All the skills learned from robotics are extremely transferable and will help me in my future career, whether it is some type of engineering or business," Jennison said. "No matter what I pursue, I know I will have valuable skills for the workplace."