Life of an equestrian
Equestrian team is off to a start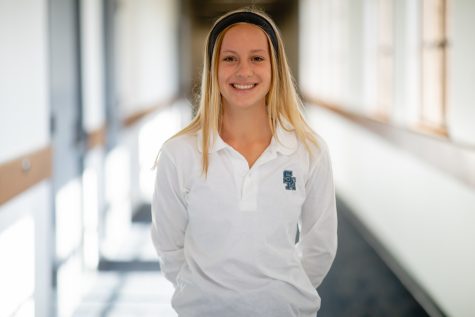 More stories from Hadley McCusker
Now beginning their season, the equestrian team is training hard to procure a successful season. Being such an athletic oriented school, it is easy to focus our attention to our football or basketball teams that we tend to overlook such a unique and interesting sport. All the girls have a specific role on the team and contribute in different ways. They look forward to a promising season this year.
"Each girl has their own trainer and their own stables." said Junior Emma Khacherian. "Depending on our schedules we go almost everyday to practice."
Contrary to popular belief, there is much work that is put into the sport. It requires hours of training and not to mention extreme patience.
"A lot of people like to think, oh the horse does all the work, but that's really not the case," Khacherian said. "We basically have to without a language, without any communication, control and work with a 1200-pound animal with a mind of its own. Of course, physical strength is required but it is also very much a mental game, you have to be confident in what you're doing,".
The girls are hard at work almost everyday after school building trust and practicing their strategies for up coming competitions where they will represent SM.
"We begin our show season this weekend and I personally I really think so, and we have so many talented girls on our team." Khacherian said. "We all have so many personal goals that will help us go far this season representing our school."