Trusting her passion
Claire Crafts releases her book Trust the Wind after years of commitment and endless hours of writing.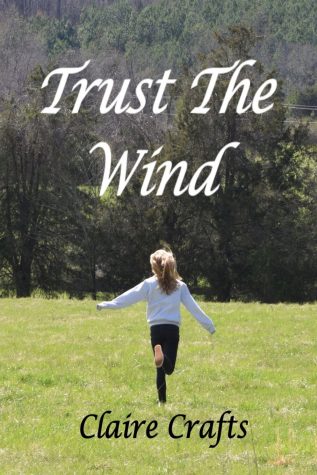 With only 24 hours in a day, it is important for junior, Claire Crafts, to utilize every hour, minute and second of the day. Her alarm clock goes off at 5 a.m. after getting around four hours of sleep the night before. With homework is scattered all over her bedroom, she quickly gathers her things to make it to school in time for her ASB meeting at 7:30 a.m.
AP/ IB student, ASB member and author, Crafts released her book Trust the Wind less than a year ago in April 2018. Knowing schedule would soon be overwhelming, she started brainstorming the plot for the book before the craziness of AP and IB classes.
"I wrote the original draft of my book freshman year, so I wasn't in IB or AP classes yet when I penned most of it," Crafts said.
Trust the Wind follows the story of a girl, Emily Lawrence, who leaves her home in California to move to Montana before her freshman year. Emily encounters a new love interest, Lucas Wright. Along with this new relationship, Emily faces adversity with her family and battles her insecurities.
"My final version of Trust the Wind actually didn't end up being anything like the original version," Crafts said.
Time forced Crafts to develop efficient time management skills in order to finish her book, go to her jobs and finish her homework. Writing became her escape from the busy-ness of her daily life.
"Writing is one of the things I enjoy the most, so it really wasn't difficult for me to make time for it," Crafts said.
When Trust the Wind was published, it was a surreal moment for Crafts. She put out a piece of literature she spent endless hours on, and she accomplished a life-long goal at the age of 16.
"I have wanted to write a book for most of my literate life, so after writing dozens of first chapters for books, it was truly an amazing feeling when I actually finished a novel, especially after the long process of writing it," Crafts said.
Trust the Wind is now offered on Amazon where it has received dozen of five star reviews. One user said Craft's work is "Absolutely a lovely read. I was engaged from the very beginning until the last page" and another user added "I read this book in one day. It was a fantastic coming of age novel and a complete page turner." Crafts is currently in the midst of writing her second novel.
"The best advice that was ever given to me was to just keep writing." Crafts said. "High school is so busy and it can be hard to find the time and get into the right mindset to actually write. It is one of the most rewarding experiences though, and if you believe in yourself, you will be surprised with what you can accomplish."