Student section of the week
In Week 0 the OC Register votes Santa Margarita as the Student Section of the Week
With High School football starting back up around the country, student sections are becoming as important as ever. The Orange County register votes on the student section of the week and awards a school for the student section of the week.
In Week 0 of the High School football season, the Santa Margarita Eagles took on the San Juan Hills Stallions and the Eagles won by a score of 38-14. The Eagles defeated the Stallions in front of 5,500 fans and Santa Margarita's, Eagles Nest, kept Saddleback College loud and alive all night. The Eagles Nest, the student section for Santa Margarita, helped the players stay in the game and energized the entire time.
The Eagles Nest while focused on the game, also helped make the first game at the new Saddleback College stadium, a memorable one. With Saddleback College's football stadium being constructed for the past three years, the Eagles and the nest positively commemorated the new stadium. With Saddleback College being the home stadium for the Eagles, Saddleback will have many more memories created by the Eagles and the nest.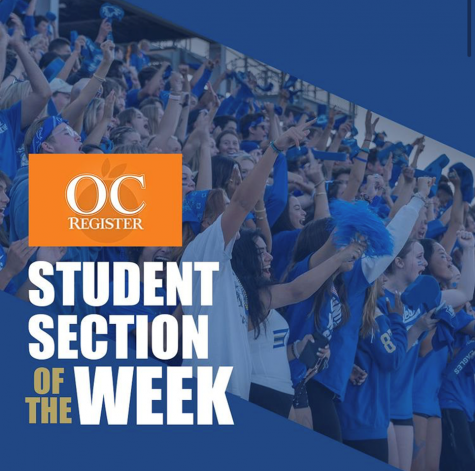 On Tuesday, August 24, 2021, the Orange County register announced the winner of the student section of the week. The Eagles Nest of Santa Margarita was awarded the student section of the week for week 0. This prestigious award excited the community and motivated the football team towards the week ahead. The award of the student section of the week was presented as a great honor and congratulated the Eagles Nest on their energy in the stands towards the players on the field.