End of an era
Santa Margarita Ice Hockey Team take home third place at Nationals.
Recently the Santa Margarita ice hockey team got back from Omaha Nebraska after competing for their third straight National Championship.
The Eagles, unfortunately, ended up placing third in the nation and fell in the National Semi-Final game to New Trier from Illinois. Even though the Eagles did not finish with their end goal of a third straight national title are still proud of their accomplishments this year.
"This year has been full of uncertainty and being able to compete at National in my Senior year and being able to place in the top three in that nation really shows the talent in our program," Senior forward Josh Hyden says.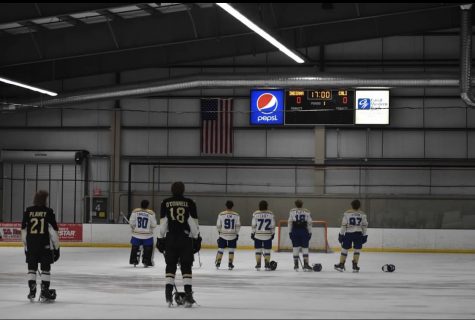 Hyden who was a part of the 2019 National Championship team was the team leader in points with 6 total points in 5 games along with his line mates' seniors Aidan Casey and Marcus Kim who also had 6 total points in the tournament.
The Eagles started the tournament off strong with a strong 8-1 win against Penn Gold from Indiana with a strong game from Aidan Casey who led the team with 4 points after the first matchup.
"Being able to start a tournament off with a solid win like that is always good for the boys and gave us confidence and something to build off of going into the rest of Pool Play" Says Casey
Coming off that win the Eagles finished pool play with two solid wins against the Arizona state champions the Notre Dame Saints and Florida champs the East Lake Eagles. The Eagles then won the quarterfinals against the skilled Colorado state champions Valor Christian. But unfortunately later that evening the Eagles fell to the Illinois state champions and National runner-ups New Trier.
Looking into the future the Eagles still have a couple of league games left in California to complete their season.
"Being able to play for a couple more games with my brothers are memories that will last a lifetime to me. Transferring from Mater Dei after my Freshman year brought so many memories and friends that I will remember fondly" says Hyden.
Leave a Comment