Changing shades
Senior defensive end Derek Wilkins, announces his commitment.
There are over one million high school football players in America. After high school, only 6.5% of all players continue in college, and even lower percent play in division one. After earning league honors, 4-star status, and amassing 20 offers during the recruiting process,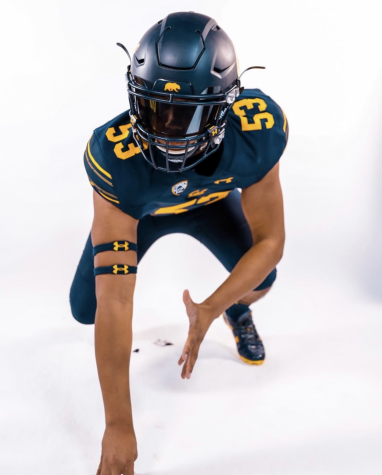 Wilkins had offers from elite programs such as Nebraska, Washington, and UCLA, among others. Cal stood out throughout the entire process.
"Cal just always treated me like family, and for me, the combination of the academics and a great program was too much to give up. Academics was biggest, [a Cal] degree is like no other, " Wilkins said.
Since he arrived on Campus Wilkins has been one of the hardest workers on both the field and in the classroom and he will continue with his current level of effort in college.
"Work hard," Wilkins said.  "There is always someone out there working harder than you, you can always go out there and work hard and be open to anything because obviously there is only a certain amount of spots at every level."
Wilkins will be the first to mention all the people who have helped him throughout the process. He thanks his coaches and teammates, but insists his mom deserves the most praise.
"My mom would definitely be the one who deserves the most credit, for raising me the way she did, but there are so many people that helped me get to this point, I could go on forever," Wilkins said.
Wilkins joins a Cal class ranked 21st in the nation. Wilkins has high expectations for his team and himself.
"I'm hoping we can win a Pac-12 championship, I can graduate with a great degree, and become an NFL prospect and player," said Wilkins.