World Series 2020: Covid-19 style
Amongst the global pandemic, this fall classic brings excitement and competition to many fanbases.
With restrictions on the regular season due to CDC guidelines, this year the World Series looks a little different. The previous 162 game schedule was cut down to only 60. This meant each team would only be playing nine opponents, opposed to the usual nineteen or twenty.
"Some people think this season doesn't count and some people do. This world series is special because they haven't played a short season like this before" said Spencer Johnson. "The shortened season meant the MLB would now take 8 teams from the national league and 8 teams from the American League.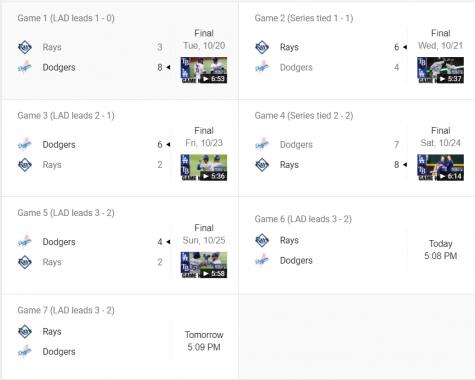 Despite controversy regarding the authenticity of this year's world series, viewership has jumped.
"More people have been watching because eight more teams made the playoffs so eight more fan bases get to watch the playoffs," Johnson said.
The playoffs concluded with the National League Los Angeles Dodgers and American League Champion Tampa Bay Rays taking on the World Series. This is the Dodger's 21st appearance in the World Series and the Rays second. The Dodgers bring Corey Seager as their star shortstop and best player and the Rays bring Randy Arozarena as their top performer and best right fielder.
The Dodgers are one win away from title with game six approaching tomorrow. Johnson, a self-proclaimed "diehard dodgers fan," has enjoyed watching his team make it so far.
"They will win the game tomorrow; I'm feeling good about it" weighs in Johnson. "Tampa bay rays have Blake Snell going tomorrow, who is one of the best pitchers in the world so that a factor in why we might lose. Other than that I feel pretty good that the Dodgers won't choke tomorrow."
Will the dodgers take the title tomorrow or is it up to game 7 to decide? Only time will tell. Until then, fans continue to wait in anticipation.
Leave a Comment