Turn up the music
Studies show listening to music while studying increases productivity and soothes the mind.
When starting a long list of homework assignments, it can be hard to finish work without getting distracted. This is where a study-specific playlist comes in.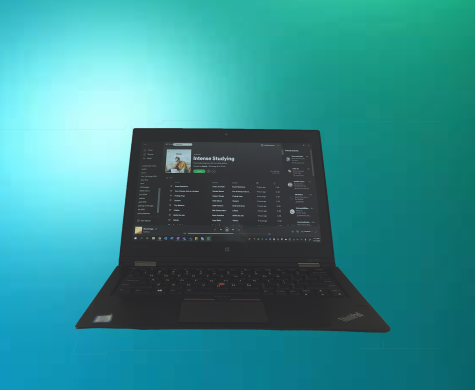 The Vaughn College article, "Studying to Music can Put Your Brain in the Right Frame of
Mind", explains how listening to music while studying helps with concentration, improves focus, and relaxes the mind.
It's important to pick the right type of music to help you focus. You can use a premade study playlists or people can make your own.
"I usually listen to instrumental music because it helps me focus," senior Mia Huebscher said. "I can't listen to any music with words because it distracts me."
On music platforms like Spotify and Apple Music, there are already premade study playlists that are dedicated to helping people focus and get all their work done. It is extremely useful when people don't have enough time to create their own study playlist.
Some good study playlists on Spotify are "Study Zone", "Instrumental Study", and "Intense Study". All these playlists help people get in the right headspace to complete all their work, by featuring instrumental, quiet, or nature songs.
In order to create a playlist, it is important to keep the playlist short to signify a study break, it should be no more than an hour. Then, find songs that relax the mind and won't provide distractions. When listening to the playlist, make sure to keep the volume at a moderate level.
No matter what playlist you choose to listen to, music will help you focus on finishing all your work.
"Listening to music makes me more productive because it helps me focus on what I need to accomplish," said Huebscher.