Four teams one goal
Florida State wins NCAA womens soccer 2018 season.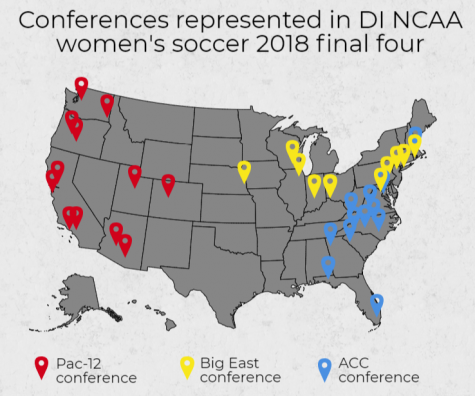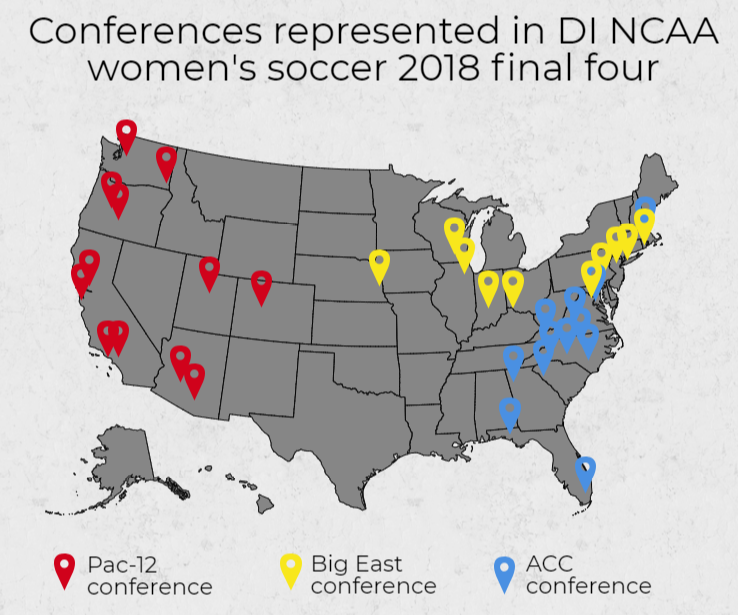 As the 2018 fall postseason for Division I women's soccer came to a close, four teams remained– all hungry for victory.
The 2018 Women's College Cup was played Nov. 30 and Dec. 2 at Wakemed Soccer Park in Cary, North Carolina. Stanford took on Florida State on Nov. 30 at 5:00 PM, and Georgetown took on UNC on Nov. 30 at 7:30 PM. The final match took place Sunday, Dec. 2 at 1 PM.
Stanford– Reigning national champions, Stanford stepped into the semi-finals with a record of 21-0-2, a Pac-12 season record of 10-0-1 and 61 total goals. The team has won 13 Pac-12 conference titles, four of which have come consecutively within the past four years. They appeared in the NCAA tournament every year except 1997 since 1990, and have scored a college cup victory twice– once in 2011 and once in 2017. Lead by Pac-12 Defender of the Year, Alana Cook, Pac-12 Midfielder of the Year, Jordan Dibiasi, Pac-12 Forward of the Year, Catarina Marcario, and Pac-12 Coach of the Year, Paul Radcliff, the team looked to add another championship to their belt. First, however, they had to get through Florida State, who they faced in their semifinal match on November 30.
Florida State – Coming off an 19-4-3 overall record and a 5-4-1 record in ACC league play, Florida State headed into the final four for the tenth time in their history. After a hard-fought quarterfinal versus Penn State, they faced Stanford to attempt to secure a berth in the championship. Although finishing seventh in ACC league play, the team was lead by ACC freshman of the year Yujie Zhao and first-team All-ACC player Deyna Castellanos through the tough rounds of the tournament. Only ever winning the tournament once before in 2014, the team came into the tournament as the school with the least amount of NCAA championships.
Georgetown– Georgetown entered the tournament with an overall record of 21-0-3, a Big East season record of 10-0-1 and 53 goals. After winning their third straight Big East championship over Butler on November 4, Georgetown clinched their place in the tournament. As the top team in the Big East, they boasted Big East Offensive Player of the Year Caitlin Farrell, Big East Defensive Player of the Year Meaghan Nally, Big East Goalkeeper of the Year, Arielle Schechtman and Big East Coaching Staff of the Year. Outscoring their opponents 11-2 in their first four games of the tournament, Georgetown looked to capture their sixth college cup title. First, they had to score a victory over UNC.
UNC– Proving to be a power-house of women's soccer, UNC holds 20 of the 27 ACC titles and 22 of the 36 NCAA college cup titles. Head Coach Anson Dorrance has lead UNC women's soccer for 37 years and has coach phenomenal US Women's National Team players Mia Hamm, Kristine Lilly, Tobin Heath and Heather O'Reilly. Taking second place in the ACC championship this year, the team held an overall 20-3-2 record and a conference play record of 10-0-0. Lead by ACC Freshman of the Year Alessia Russo, the team defeated UCLA in penalty kicks to secure their place in the final four.
UNC and Georgetown entered into a hard-fought semifinal that ended in double overtime. In the second half of overtime in the 107th minute, UNC's Julia Ashley scored giving UNC a 1-0 lead over Georgetown with 13 minutes to go. Georgetown couldn't recover in the time left, and UNC advanced into the final match of the tournament.
Florida State and Stanford played directly after Georgetown and UNC to determine which team would meet UNC in the final. After goals from Florida State's Gabby Carle in the 28th minute and Malia Berkely in the 41st minute, Stanford was unable to penetrate Florida States pressure, and Florida State advanced with a 2-0 win over Stanford.
In the final match, Florida State faced UNC in a rematch of the ACC conference championship. Florida State's Dallas Dorsey poked the ball into the back of the net in the 59th minute, securing FSU's 1-0 win over UNC for the NCAA championship.