Game of the year
Students competed against faculty and staff in the annual basketball game at the Winter Formal rally.
Every Winter Formal dance comes with a school rally to recognize all of the winter sports teams.  This year's rally included the annual student-faculty basketball game with seniors and teachers competing for a non-uniform dress day on Monday, Jan. 22.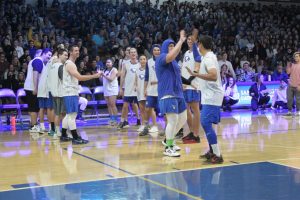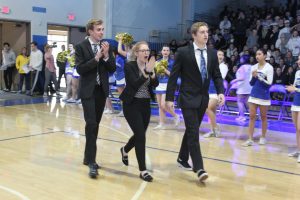 More than 30 seniors tried out for the student team on Jan. 7 at the Coto Sports Park. With help from the Varsity Basketball team, the students ran drills around the court in hopes of getting a spot on the team.  ASB members decided who would participate as players, coaches, announcers and water girls and boys.
The student team was coached by seniors Christian Blazona, Jessica Fracker and Chad Magyar. As for the announcers, seniors Gillian Yosenick and Dani Spensiero dressed in suits and bald caps to play their part.
"Announcing at the game was really fun," said Yosenick. "I love that our school does funny things like this at rallies."
As the entire student body crowded into the gym, teachers and students wore matching uniforms and showed off their basketball skills.  Senior Brendan Myers enjoyed playing for the student team.
"The best part for me was being able to play in front of entire school, representing the students and the senior class," Myers said.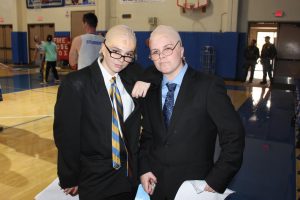 It was a close game throughout the rally, with students and teachers putting points on the scoreboard.  The game went into a one minute overtime with both teams tied at 18-18.  The game ended in a tie and both students and teachers gained the reward of free dress on Jan. 22.