Lack of Space Hinders Robotics Program's Growth
Santa Margarita Robotics Program has experienced rapid growth in recent years
Luke Soliman, Staff Writer
Feb 6, 2023
The Santa Margarita Robotics Program has experienced rapid growth in recent years, from 16 students in 2018 to 42 currently. However, the program is facing a significant challenge in terms of space limitations.
In 2018 the robotics team had 16 members, 1 team, and used science room G117. Now in their 2023 season there are 42 members, 2 teams (JV/Varsity) and use a space in the library. With such a large team and a room of 20 ft by 20 ft, the program struggles to achieve success.
"It really hasn't been a library for a while, even before the rooms were taken over it's been more of a student center" said former student and now teacher Mrs. Harrison "It hasn't been a quite study place, but physically [the rooms] took away some of the blueprint of seating"
Additionally, as the room is located in the library, which presents another problem. The machinery used in the program can be quite loud and disruptive. This makes it difficult to use until after the library closes. This presents a significant hindrance to the team's ability to start earlier as they must wait until the library closes to begin.
"The size of the door to the room is also a major issue," said junior on the team Samuel Qu. "The door is too small to fit the robot through, which causes the team to remove parts of the robot."
Furthermore, the robotics competition the team competes in (FRC) requires practice with game elements that simply cannot fit in the limited space of the robotics room. This means that the team has to transport the elements to another location, which can be challenging and time-consuming.
With robotics programs growing in popularity in the area, it's clear that the school needs to keep up with the growing demand. The lack of space in the high school's robotics room is a major hindrance to the program's growth and success. The school should consider investing in larger facilities to support the robotics program and keep pace with the teams growth.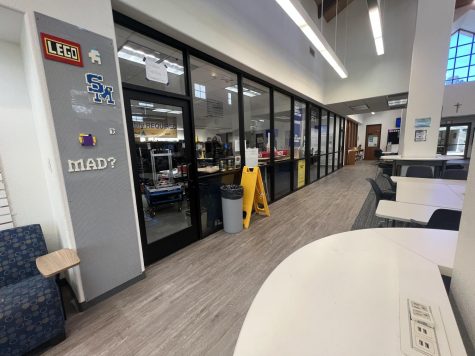 Read more about Robotics: