E-Sports team clicks to win
SMCHS E-sports team has a growing membership and growing talent.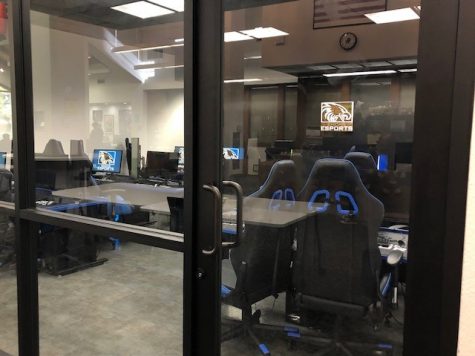 Click. Click. Inside the SM library, rows of headphones can be seen, the headphones' owners stare at the computer screen in front, focused in on the game.
According to the National Education Association, there are now more than 8,600 high schools which offer E-Sports programs and students are commonly motivated by the availability of scholarships and careers.
SMCHS created their own E-Sports team in 2019, but membership increased when all students returned to campus and the E-sports room in the library could be used.
Participants play games including League of Legends, Overwatch, Fortnite, Super Smash Brothers, and more.
"We have two real leagues that we're in and both of them are high school, so it is only high school players that are allowed to play and only high schools that are allowed to play in these tournaments," E-Sports Manager Chase LeBlanc said. "The league creates a list or roster of all the schools together and they compete."
The team plays in both a local league and a larger league in which every high school around the United States that signs up to play.
"In playoffs they [the league] assigns the team we are going to play against just like in a normal sports team," said LeBlanc.
With about 60 students involved in the program and only 12 computers available in the room in the library, most students practice at home. Even with students practicing in different locations, the team is still ranked first in the local league.
But one of the main question the team has faced is whether or not members of the team can receive sports credit for their participation.
"Not yet," said LeBlanc, "But I am working on creating an actual curriculum and we're going to have work-out schedules so that we can actually get P.E. credits. It was originally started as a club but because of how big it is and because of the intensity of it it is more of a team sport now."
If students want to watch the E-Sports team in action, they can watch the team on twitch.tv/smchsteagles.