Disappearing act of the shores: coastal erosion within Orange County
Beach erosion threatens coastal cities within Orange County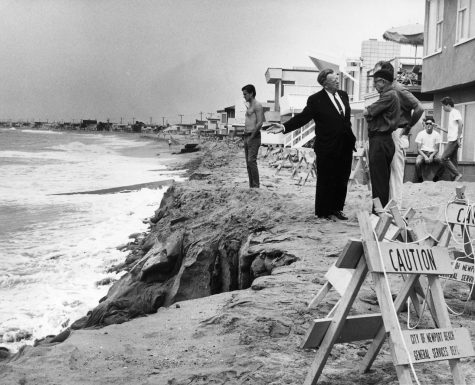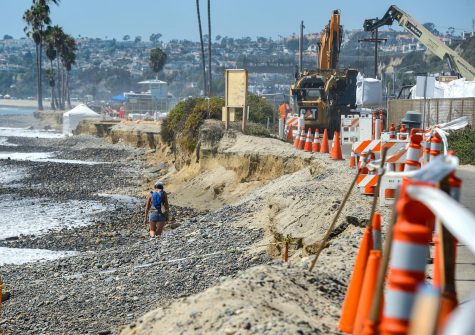 Seemingly unending sandy beaches with overlooking houses are at the forefront of Orange County charm. However, these luxuries are in jeopardy with the looming threat of beach erosion.
In hopes of widening Southern California beaches, sand restoration programs have prevailed. Beginning the in 1930s, roughly 1.3 million cubic yards of sand each year was dispersed within the area. 
Since then, these ventures have declined in the past few decades while the risk has only increased. This erosion could amass to the loss of billions of dollars in real estate, infrastructure, and tourism. 
Although sand replacement is the favored choice for shore protection, it has numerous drawbacks. For instance, the cost is much higher than other alternatives such as concrete seawalls, riprap, or jetties, and cities must replenish their supply to yield the best results. Additionally, workers must mine the sand inland before it can reach the coastal areas. 
Without sand to dampen the power of the waves, the train tracks in San Clemente have also faced significant damage. Much of the Southern Orange County route was closed for a few weeks because of this. 
According to a recent study, augmenting the beach width by 50% in San Clemente could produce an estimated $3.1 million in consumer benefits each year.
Unlike San Clemente, other cities do not have coastal railroads to expedite their receival of funds.  
As one of the forerunners in beach protection, the Surfside-Sunset Beach Nourishment project has worked to replenish the sand in the region since the 1960s. Nevertheless, without federal funding, officials were forced to suspend this initiative for the past 11 years. 
This neglect is starting to have substantial consequences. Due to the continuous postponement of funds, the increased amount of sand needed to replenish the beaches will cost over $50 million. Comparatively, this same project five years ago was estimated to cost only $18 million. 
Without resupplying the lost sand on a regular basis, these anomalies of infrastructure and property damage will occur much more frequently. Given the gravity of this issue, residents are calling for immediate action to mitigate further damage done to the coastlines.