Fans will need "Life Support" after Madison Beer's debut album
Beer tackles themes of mental health, heartbreak, and healing in her stunning debut.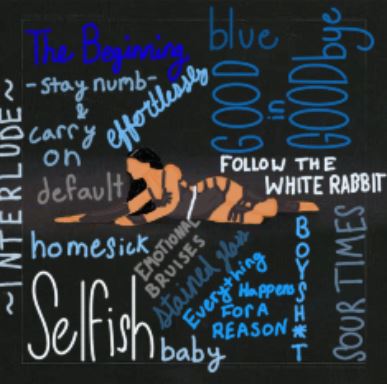 Within the first few seconds of listening to Madison Beer's debut album, "Life Support" audiences are translated into a world of the singer's creation. The first track, "The Beginning," is hauntingly beautiful and ethereal. Beer introduces the emotional themes and production style of the body of work through the track's minimalistic composition featuring echoing vocal harmonies, guitar, and synths.
Entering the next track, "Good in Goodbye," feels abrupt as the production style jumps to a beat-heavy typical pop single. However, Beer maintains continuity with the track's angelic harmonies and falsetto background vocals. Lyrically, the track sets the stage for Beer's headspace in creating the album. Recognizing the toxic nature of a past relationship, Beer learns to see the "Good in Goodbye" and leaves her lover.
While "Good in Goodbye" emphasizes the empowerment of leaving a relationship, "Default" focuses on the raw emotion of that decision. The track begins with a splash, playing on a lyrical allusion to drowning.  Vocal production on the track is itself vulnerable, with one lead vocal and faint high harmonies.
Beer switches up her style in "Follow the White Rabbit," creating a Matrix inspired alternative rock song. Distorted vocals, gritty bass, and electronic sound effects give the song a trippy and creepy feel.
"Effortlessly" focuses on Beer's journey in seeking mental health treatment. Lyrically, the track may be one of Beer's best, beautifully highlighting the ups and downs of seeking help. In the intro to "Stay Numb and Carry On," the titular hook represents backwards and distorted vocals. As the lyrics depict Beer's struggles with mental health, the intro represents the turbulence of her own mind.
Production  on "Blue" begins vintage and almost Lana Del Rey sounding. Del Rey's style also runs through the cinematic love story that Beer describes in her pre-chorus. But as the chorus begins, a gritty bass disrupts this old Hollywood feel. As Beer repeats, "I know when to run," she clarifies that though love entices her, listening to her instincts can break the spell.
"Interlude" splits the album in half and finds Beer trying to be honest with her lover. Beginning with only distorted vocals and ending with harps and violins, the production turns a vulnerable moment into a triumph. Beer's storytelling shines on "Homesick," comparing her internal isolation to that of an alien stuck on earth. Every element of "Selfish" highlights Beer's raw emotionality and is a perfectly scream-worthy breakup song.
Beer melds elements of alternative rock and pop into yet another breakup masterpiece in "Sour Times". The rhythm and melody of "BOYSH*T" make it perfectly catchy and certain to stick in anyone's head. "Baby" is one of the more classically pop songslyrically, but creatively uses strings and soprano vocals. This upbeat track is followed by "Stained Glass," a continuation of the themes of heartbreak and dramatic scoring of "Selfish".
"Emotional Bruises" has an R&B feel with a catchy melody and old school style guitar and bass. Alien sounding vocals saying, "I still love you," kick off the final song, "Everything Happens For A Reason". Melancholic and bittersweet, the track features some of Beer's rawest vocals on the album. "Channel Surfing/The End" flips through the tracks of the album and gives the listener closure before parting.
Released nine years after she was discovered, Madison Beer's debut album highlights her artistry and solidifies her place in the music industry.