A sport switch
Senior, Gianna Medica, switches sports junior year and commits to play D1 golf in college.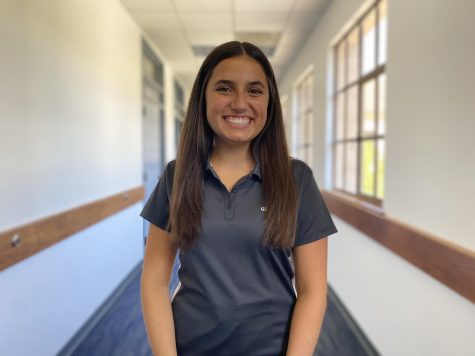 More stories from Natalia von Gierke
Gianna Medica, a senior, committed last week to Butler University, to play Division 1 Women's golf. But, Medica's high school career has been different from most. After moving from Colorado sophomore year, she played on the SM's Varsity Volleyball team. Medica was at the top of her game, playing on an elite club team and placing 3rd at nationals. She made the big decision to stop playing volleyball, after wanting a greater challenge with more fulfillment.
"It was a long-term goal of mine to play NCAA Division one sports, and I loved the idea of it and the dedication it took, so I was upset that I may not get this opportunity," said Medica. "After getting into golf, I made it my goal to play in college."
This major decision and sport switch was a change of pace for Medica. Golf and volleyball are two very different sports, volleyball being fast-pacedand having a team atmosphere. Golf, on the other hand, is much slower, more peaceful, and a longer game than volleyball.
Another setback Medica faced was improving her game in such a short period of time. Most athletes begin talking with college coaches as underclassmen. With Medica's new goal of playing golf in college, most college team rosters had begun to fill up. Many people doubted Medica's ability to excel in this new sport, but she worked to prove them wrong.
"Countless people told me this goal wasn't possible for just getting into it and many told me I should just focus on NAIA or D3.  I kept my faith and kept at it as I went to the range every day after school, and I played on the weekends," Medica said. "There were so many days where I didn't feel that it was worth it to keep playing, and I wanted to quit. Despite these challenges, I continued to work hard with practicing, and I started seeing a swing coach."
Medica's constant perseverance and excellent coaches helped her to push forward and shave 20 strokes off her game, within just one year. She notes that her family played a big role in supporting her new sport.
"I am fortunate enough to have parents that support me through anything I do, so they were happy with whatever I decided," Medica said. "My dad was thrilled that he would have someone to play with more often and spend more time with."
Medica's hard work paid off, as she has committed to play Division 1 Golf at Butler University. She notes that playing at Butler will help set a foundation for her dream of playing golf professionally.
View Comments (1)