Students reflect on evacuation from Silverado fire
Seniors Jillian Surdilla and Sara Good recall their evacuation experiences.
Video by CBS Los Angeles. Wildfires--CBS Los Angeles covers the Blue Ridge and Silverado fires. This video was published on Oct. 28, 2020
Group B classes took place virtually on Monday Oct. 26 in response to the Silverado wildfire raging in the Santiago and Silverado canyons, which forced around 90,000 Orange County residents to evacuate their homes (NBCLA). Now 100 percent contained, the fire burned 12,466 acres off the 241 toll road, threatening homes in the Irvine area (Cal Fire). Among the 90,000 evacuees are seniors Jillian Surdilla and Sara Good.
Surdilla's family lives in Northpark, a neighborhood located in Irvine, directly in the red-zone for the fire. Surdilla was in the middle of class when she received an evacuation alert on her phone.
"I didn't really read it carefully, so I thought it was just a regular warning at first," Surdilla said. "However, my mom burst into my room a few minutes later and told me that we actually had to pack our things and get out of the house."
Surdilla quickly packed her favorite books, photos, extra clothes, and other necessities. She also made sure to pack her ceramics, which include bowls, plates, and tea cups. Her family had collected these ceramics from around the world and had passed them down.
"Our neighborhood had notified us that the risk of property loss was imminent, and that really scared my family," said Surdilla. "While we were in the process of getting ready to bring our things into the car, I don't think any of us could fathom the fact that that moment could be the last time we stood in our home."
Her family rushed to her mom's dental office in Mission Viejo since they did not have much time to plan. Later, they managed to book a hotel in Anaheim despite the large amounts of bookings due to evacuations. Her family felt grateful when they later returned to find their home is the same condition. Although there was massive amounts of smoke and ash as a result of leaving one of their windows open.
Good's family also evacuated due to the fire, living in Lake Forest, a mile from the original evacuation line. Good left school during sixth period after receiving a call from her mom.
"She was worried, so we packed up the important stuff and later brought it to a friend's," Good said. "Most of the time we went to a park near us and watched the fire for a while. It was fine until later that night around 9:30 [or] 10:00, where it peaked over the hill, and that's when our area got mandatory [evacuation]."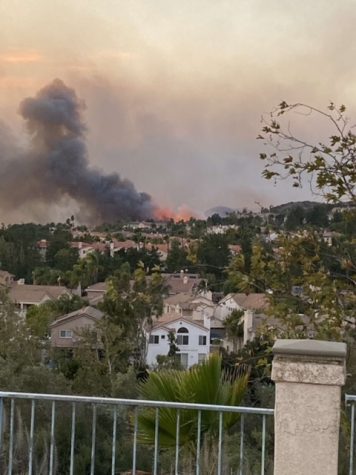 Good returned to her home a day later, finding it smoky like Surdilla did. She recalls how the fear didn't hit Good until the fire became more severe.
"At first [I was scared], but after thinking about it more rationally I was fine until I saw the fire line sweep over the hill around 9:30 [p.m.]," said Good. "That was crazy looking, and [I] probably won't forget that sight."
The Orange County Fire Authority extinguished the Silverado fire on Nov. 7, but Surdilla will never forget the feelings she felt that day the fire threatened her cherished household memories.
"If anything, I was probably more sad than scared," said Surdilla. "The evacuation made me realize that I had taken so many things about my home for granted, and on that day, I felt a lot of regret."