Introducing SportsRecruits.com to student-athletes
Mike Hiserman was looking for a way to assist nearly 1400 student-athletes. The goal was to help those who had aspirations to play at the next level and Sportsrecruits.com would be a new tool for student-athletes. The platform that Mike Hiserman, Associate Director of College Relations,
found met those standards and offered that extra tool. Sportsrecruits is a website where student-athletes can contact college coaches and send them videos all in one place.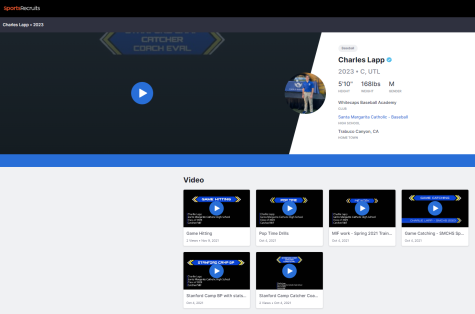 The Sportsrecruits platform is a way for student-athletes to contact college coaches through one website. The website is user-friendly: all you have to do is look up a school, click on the coach or coaches, and then type your email. The simplicity of Sportsrecruits makes sending emails very efficient.
"SportsRecruits checked all of the boxes: easy to set up, easy to navigate and it's a time saver when an athlete is responding to a coach who wants information or reaching out to a school on their own to promote themselves," Hiserman said.
"SportsRecruits is a great experience to help me get into the college atmosphere," said Junior Charlie Lapp. "It helps me get more knowledge with what is happening with the scholarship program and how do I get myself out there."
The platform's easy-to-use features will pay dividends in the future and reward student-athletes in contacting as many coaches as possible. The features of adding video, transcripts, and current coaches' contacts make the process simple and easy for the college coaches as well. SportsRecruits' future looks to be on the right path and will continue to be a tool to those who have aspirations of playing at the next level.
"I think the future is bright and as more student-athletes access the platform and see how it works, the more popular it's going to get–the coaches, too. There are already a handful of coaches here who have fully embraced the system and are using it effectively and in a way that is saving them countless hours," said Hiserman.
Almost all college coaches use Sportsrecruits, so it made sense to Hiserman to introduce the program to students.
"The school has invested in you by making me available to you and also this wonderful platform; it's free. Use it. Invest a few minutes to build a strong profile and it will save you countless hours in the long run. It also allows you to take control of your own recruiting," said Hiserman.