Restore revive revitalize
Senior Phillip Medina co-founds a clothing company that inspires growth in the environment and its customers.
Starting a business was always a goal for senior Phillip Medina. While on FaceTime, he decided to speed up the inevitable and co-founded his clothing company, Sea of Trees, in the fall of 2020 with his friend Jack Stevens.
The first collection for Sea of Trees officially launched on Jan. 8, 2021 and sold out in less than 24 hours. After the high success rate of the first collection, Medina and Stevens went back to work to create their second collection, Instill Growth, which went live on April 21.
"So far, every collection has sold out which has been amazing," Medina said. "We have had a high customer return rate and we appreciate every single one of them."
The unique designs and friendly customer service are only part of Sea of Trees' success. With every purchase, Medina and Stevens donate one tree to Team Trees, an organization that works to fight against deforestation.
"We decided to donate to Team Trees because they provide evidence of them planting trees and also aid the farmers that plant their trees," Medina said. "Our brand is our way of purifying air through fashion."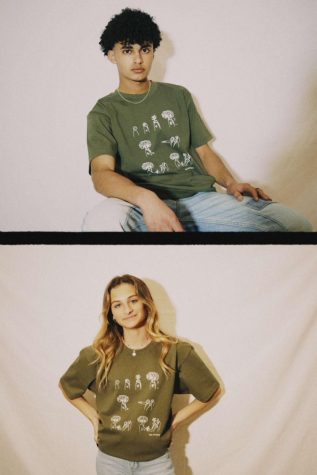 "Restore. Revive. Revitalize." is written in the Sea of Trees Instagram biography. This slogan is encapsulated in the designs of the company. Each tote bag, sweatshirt, t-shirt, and hat feature designs that feature the environment and inspire personal growth.
"We have had help from our friend Jake Davis for some of our designs, but when we do create our own designs, we usually take inspiration from our perspective [on] life," Medina said.
In order to have had two successful collection launches, Medina had to learn about the business world.  Before the first launch, Medina spent his time figuring out the finances, marketing his product, and designing the clothes.
"Starting my own business has given me the experience on the financials side of business, marketing, and creating a relationship with customers," Medina said. "I am so grateful for this experience as it will help me on starting other business ventures."
This is the just the beginning for Medina. He looks forward to growing his company and reaching more people.
"Our future goal with the company is to hopefully make it international, help others in need, and continue planting more trees," Medina said. "We want to create a platform for the people who need it the most. Hopefully one day we are able help to the less fortunate and spread light on their problems."
Check of Sea of Trees' Instagram, @seaoftrees, and their website for more information.