Thinking outside the cookie box
Rylie Forbes shares her experience as a high school Girl Scout navigating through a pandemic.
While Thin-Mints, Carmel Delights, and Peanut Butter Patties are some of the sweetest perks girl scouts bring to the community, their impact stretches far beyond boxes of cookies. Many don't realize that with each cookie sale, a girl scout is learning the valuable skill of entrepreneurship. Each project or initiative a girl scout takes on serves a purpose of gaining skills in STEM, outdoors, life skills, or entrepreneurship. The mission of girl scout is to positively contribute towards the lives of others, help wherever needed, and do the job well–all while growing and leading with a community of girls with the same goals.
"My favorite thing about being a Girl Scout is the environment," said sophomore Rylie Forbes. "Over the years of being a Girl Scout, I have made so many close friendships in my troop. We are like a family."
Forbes has been a girl scout for 10 years and is currently a Girl Scout senior. A major goal she is working towards is the Girl Scout Gold Award– the highest award a Girl Scout can receive.
"For the Gold Award, you have to find something that you know needs to be fixed in the world. Then, you have to discover a way to fix that issue and make it sustainable," said Forbes.
Forbes is in the process of choosing a project for her Gold Award. She challenges herself by researching several global issues and finding what she wants to focus on. From there, she must find ways to ensure her initiative can last for generations.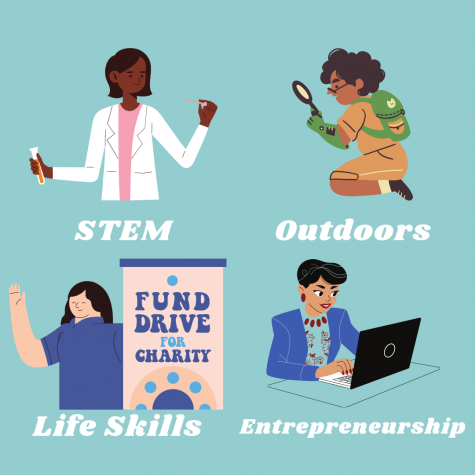 "Working on the Gold Award requires a lot of time management. I find it hard to manage my school and dance life with my Girl Scout life," said Forbes.
Although being a Girl Scout comes with large responsibilities, the positive impact they leave on the world makes it all worth it for Forbes.