Saving senior year
Attending school for four days a week might be just what the Class of 2021 is hoping for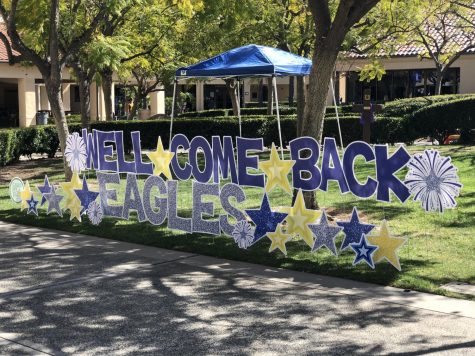 For many, opening emails from President Sulick and Principal Wood goes hand and hand with disappointment. Often, the information contained is about new cancellations to activities, or disappointing news of going back to fully virtual instruction for those attending school in person twice a week.
However, on  Thursday, January 28, brought forth some hope for the students of SM, specifically the senior class. After missing a large majority of junior and senior year, the change in schedule offers a slight sense of normality by having almost everyone present in each of your classes.
Starting Monday March 1, students who chose to attend school in person will do so for four days a week: Monday, Tuesday, Thursday, and Friday. Wednesday will remain a fully virtual all-periods day, in order to clean the campus and ease into this next phase of learning.
"I am so excited to be in person so soon," said senior Savannah Jimenez. "The 80 percent will allow us to at least have about 3 months of a learning environment close to what we can hope for. And even though it won't be like how it was in past years, having this option is much better than not having anything at all."
However, there are other benefits to in-person instruction as well. "Sitting at home gets extremely tiring, and often I find myself unmotivated to do anything school related when I have free time at the end of class," said senior Bella Tosches. "When I'm at school, however, I'm able to focus a lot more and also have time to do my homework."
Yet, there is still a major concern many people have for moving the entire school back on campus, and it is simply that. SM will be full again, and with a highly contagious virus this can create a very dangerous environment.
To combat these concerns SM will continue to use and elevate their current safety precautions. In their email to the school, President Sulick and Principal Wood state, "Safety precautions include proper face coverings, physical distancing to the extent possible, temperature and symptom screenings, hand sanitizer stations, a two-bell system (even and odd classrooms), extended passing periods to avoid crowding, increased sanitization, and medical-grade air filtration, among other measures."
Whether students continue to remain on campus or fully virtual, this has the chance to finally save senior year.