Science club spotlight
From creating a new magazine to looking to compete in national competitions, Science Club continues to set the bar high.
No pressure, but not many clubs begin their first meeting discussing how the world will end. The theory of multiverses and how humans came into existence aren't exactly light dinnertime topics, either. But for Science Club, discussion of this nature is of no surprise to its members.
In her sophomore year, junior Elsa (Ruihan) Xu created Science Club, previously named STEMOlympiads. It comprised of a group of students that emphasized engaging discussion, collaboration, and a welcoming place for all those called by the sciences.
Originally, the club was competition oriented. Xu herself possesses an impressive competitive resume; she participated in the NASA student space launch and earned awards at the OC Science Fair for her work with computers and human behavior. After months of preparation, Xu and other club members faced other school teams in distinguished competitions, one being the National Science Bowl.
But just as nature undergoes scientific evolution and constant changes, the club too has seen progressive transformations over the past year. Broadening her focus from a solely competition-based club, Xu seized the COVID pandemic as inspiration to found a new, student-run science magazine.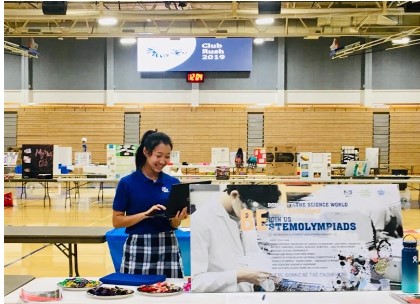 "When the idea first came around, I was thinking that the magazine could feature science precautions against how to prevent COVID spread," Xu said. "As time passed by, I realized we could include more topics in the magazine."
The scientific topics Xu mentions are limitless. Club members, who work to write, edit, and graphically design the magazine, are given relative autonomy to choose their story subjects. If what they're writing about intrigues them—if they feel the passionately enough about it to share that certain piece of scientific knowledge with their peers—then bingo.
"There is no boundary, no general focus for what you have to write," Xu said. "The articles you will read are very diverse, which is part of what makes the magazine interesting and unique."
Looking forward to the future, Xu hopes to have the monthly magazine published electronically for ease of distribution during the pandemic. Accessible to the student body through the Eagle Update emails, the magazine's mission statement, reveals Xu, is a quote from Albert Einstein: "The mind that opens to a new idea never returns to its original size."
"Through the science magazine, I want students to be exposed to new ideas," Xu said. "I want them to discover how much is still unknown to them and to humanity, of how much they still have to learn."