New format for AP tests
The College Board creates a new and accommodating testing schedule to combat the pandemic.
After almost a year in the COVID-19 pandemic, schools are still in a hybrid schedule. As Advanced Placement (AP) tests approach, the College Board implements a flexible testing schedule for students to demonstrate what they have learned in a way that is the most comfortable to them.
The 2020 AP tests were shortened and all online. This allowed students to earn a grade that accommodated for the stress students dealt with during the year.
College Board has released three different testing schedules: Administration 1, 2, and 3. The administration and teachers at each school decides the schedule.
Administration 1 takes place on May 3-7, 10-12, 14, and 17. These tests will be full-length and in person, and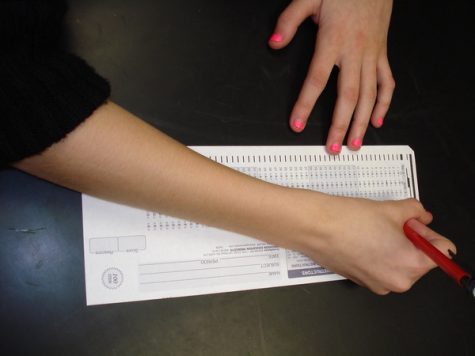 will be the first week AP tests are released.
Administration 2 is a hybrid schedule that combines both in person and online testing. According to the College Board, "In Administration 2, half of the subjects are full-length paper and pencil, administered in school, and half are full-length digital, administered in school or taken at home. Students will take their tests through Administration 2 on May 18-21, and 24-28.
Finally, Administration 3 is virtual, with the exception of nine subjects, which students can take in school or at home. Some subjects that do not have an online option are French, German, Italian, and Spanish Language and Culture and Music Theory. Administration is June 1-4, and 7-11.
In addition, the three different testing schedule allows students to have an option to make up a test if they are sick or cannot attend their school's scheduled test. However, students aren't able to choose which style of test they take, it is up to their school. For more information and updates about this years AP exam schedule, head to the College Board website.