Danger in Door Dash
There are risks and concerns for teens who work for Door Dash.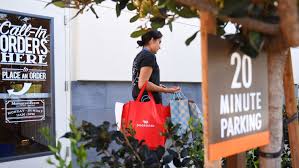 Door Dash is an American company that delivered prepared food on-demand. The company began 7 years ago in 2013 and has quickly grown in popularity. The company competes against many other large companies like Postmates and Uber Eats.
The requirements to work for Door Dash are being 18 or older, having a vehicle and drivers license, and an iPhone or android. Many teens start working for this company when they turn 18 and continue throughout their teenage years.
Working as a teenager for a delivery company like this comes with safety risks. Most people do not see this as an issue but it posts concerns for some people. Some believe that teenagers are too young to perform this job and to deliver food to houses.
There have been cases where Door Dash workers have experienced strange incidents and situation that pose issues and concerns for the employee safety.
Most people believe that Door Dash is a good job for teens and is completely safe. It poses as an excellent job for teens are it pays well and has very flexible hours. Teens are able to work for Door Dash while attending either high school or college.
Door Dash is a very popular job for teens as it is easy and accessible. There are not many requirements to be an employee and there is not a long interview process like other common jobs. Teens typically like this job because they can chose when they want to work and can work based on their own schedule.
On average Door Dash worker make $2-10 per delivery depending on the distance and the desirability of the order. Workers are paid based on how many deliveries they complete and can complete many deliveries within a specific area.
For more, see Delivering Good