A tribute to trinity
Senior Kaylin Maddox created a charitable business, Tutors for Trinity, to raise money for families who children have rare blood disorders and to help spread awareness about these disorders.
In memory of her cousin, Trinity Ewert, senior Kaylin Maddox created Tutors for Trinity to provide funds for families whose children have  rare blood disorders. After observing Trinity's family struggle to pay large hospital bills on top of daily finances, Maddox knew that she wanted to ease these burdens.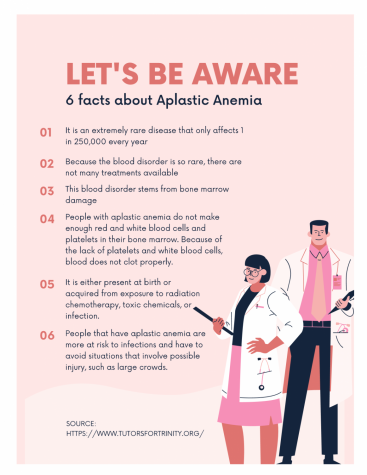 "I had a cousin passed away from a rare blood disorder called aplastic anemia when she was three years old and I want to help people that are in the same situation as her," Maddox said.
Blending her passions of charity and education, Maddox's team tutors students from grades 5-10 as a way to raise money.
"The tutors are volunteers so that all the proceeds go toward the families in need," said Maddox. "Right now, I have 8 tutors who are all students at SM."
To find clients to tutor, Maddox has used word of mouth and Facebook to spread the word about her new business. Because of Covid-19, Maddox only has 2 clients right now. You can reach out to her at [email protected]
Once a tutoring session is completed, all the proceeds will go to a family whose child has a rare disorder. Maddox sought out the local children's hospital to find families. The families selected receive various gift cards and funds.
"Right now I am in the process of contacting  social workers at different hospitals, specifically CHOC," said Maddox. "I have been trying to get in touch with social workers for oncology in order to get in touch with the families that need money the most."
In addition to raising funds, Maddox also wishes to raise awareness about blood disorders. She utilizes social media platforms, including Instagram, to spread her message. Follow @TutorsforTrinity on Instagram and visit their site here for more information.
"Trinity was a beam of light in all our lives, as she showed love to everyone that she met," said Maddox. "I created this foundation with the intention to encourage children with diseases to not give up and hope for a bright future."