New season new clubs
In accordance with social distancing procedures and Covid-19 guidelines, SMCHS Club Rush moves to a virtual format for the first time.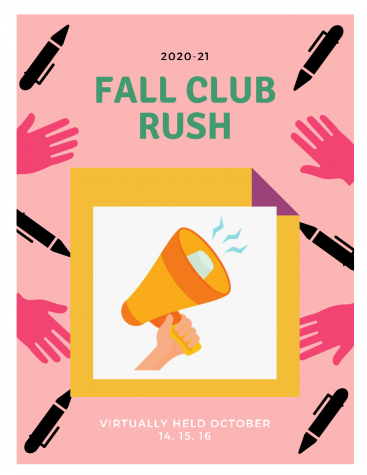 Every fall, Club Rush begins with a bustling gym filled with students, high energy, and various clubs. This year, however, was different.
Fall Club Rush was held virtually via Flipgrid on October 14, 15, and 16. To emphasize interaction, students had the opportunity to watch short videos of club presidents speaking as they briefly explained their clubs and the missions behind them. Methods like Google slides, PowerPoint presentations, and even creative musical edits dotted the Flipgrid.
Although the pandemic altered this year's Club Rush, its main goal of student involvement remained intact. Despite not being in person, students still had the chance to explore the potential of different clubs, diversify interests, and sign up on club rosters via Google Forms for the 20-21 school year.
Even though the event relied heavily on technology, administrators and IT kept technological incidents to a minimum. Many expressed approval and gratitude at the efficient switch to virtual club rush.
"Personally, I liked going virtual," said sophomore Mia Thomas, president of a new club on campus called C.H.A.N.G.E. "I think Flipgrid gave everyone a higher chance of checking out all the clubs. In person, it's crowded and harder to visit every club you're thinking of joining."
Student engagement in clubs are increasing in popularity through the online format. Many students are thankful to at least have the chance to participate in clubs, which constitute a large part of the high school experience.
"It's awesome that we can still hold Club Rush during the pandemic," Thomas said. "I'm super excited to get working on brainstorming future meetings with all that signed up virtually."