A coach's return
During a unique season, the varsity cheer team has a former coach return.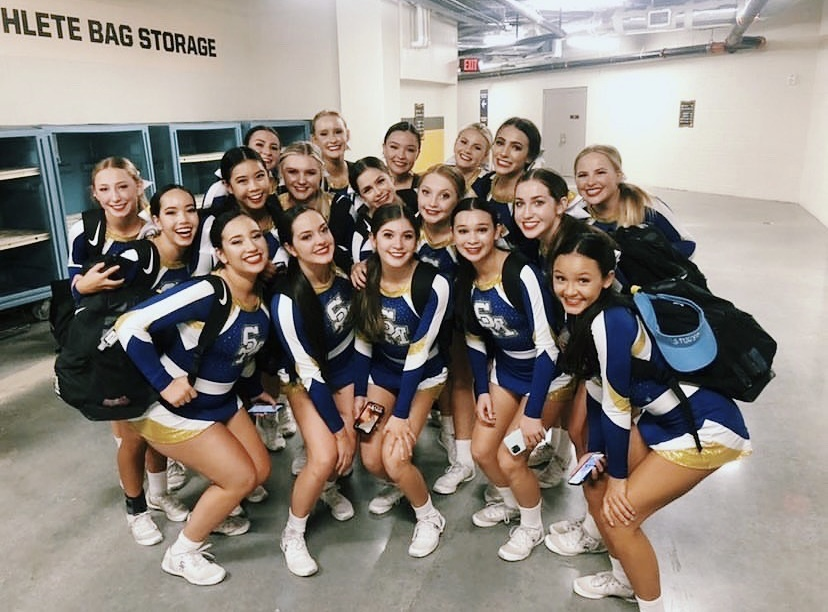 Amidst the many changes with sports due to Covid-19, the cheer team experiences even more change with the return of a familiar face. Former coach, Dana Maas, decides to come back to coach after taking about five years off.
After a successful season, winning USA Nationals and placing third in UCA Nationals, the cheer program is forced to adjust. With changes to the coaching staff along with competition and game alterations due to Covid-19, the team encounters big transitions.
"The environment has significantly changed with Dana Maas as the coach." Captain, Mackenzie Higgins said. "With all the changes going on currently, Coach Maas has prepared the team for any circumstance regarding our upcoming season."
Students have higher stress than any other school year because the of the changes with Covid-19, so sports give them a way to focus on other things. By practicing in person and through zoom calls, the team can bond while Coach Maas prepares them for the uncertain season ahead.
"Dana has been the best cheerleader to us. She had planned so much for us to make this year special but day after day things got cancelled and pushed back. No matter what, she is always checking up on us and trying her very best to make this year the best it can be among the circumstances." senior Sabrina Cormie said.
Coach Maas understands that this year is not what the students had expected. She continues to be there for the girls through the many unprecedented cancelations and modifications.
"It was hard to get a feel of our team from doing zoom practices for 4 months. But after coming back in person and being able to practice together as a team, you can tell that all the girls are super excited to come to practice and work together." Cormie said. "Coach Maas always encourages us to be together and build our team bond, even if it's from 6 feet apart."
Although the transition was not always smooth, the team environment has improved since the beginning of the practice season. Now that the team has been able to practice more in person, they have become excited for the year.
"Having Dana back as a coach has been way different than what we are used to, but she is really pushing all of us to work even harder so that we can succeed this year." Cormie said. "Even with all the unknowns we are faced with the year, the environment has been consistently positive and all of us are so excited to see how we are going to perform this year."
They change in coaches, has pushed the team to work hard, with a desire to win competitions. Even though the season has many unknowns, the team has a positive perspective on what this year will offer.
"Coach Maas has helped keep the teams spirit up in multiple ways. She has created 'prayer partners' where all three teams, Freshman/Sophomore, JV, and Varsity, send each other kind and encouraging messages each month." Higgins said. "She has continuously kept the teams motivated with her supportive and hopeful words."
With Coach Maas' return, she brought a new addition to the dynamic of the team with her. Along with the traditional captain roles, there is prayer partners throughout the whole cheer program to bring the team together.
"There is a new fresh dynamic to the team with Coach Maas keeping the team eager and motivated." Higgins said.