Latest and greatest
Netflix introduces new party feature where you can watch movies / TV shows with others.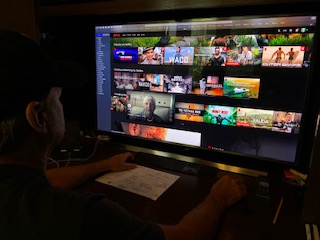 Netflix's new party feature allows multiple people to watch the same program with an interactive chat room. This new addition to Netflix allows friends and family to stay in touch during the Covid-19 pandemic. Here are some recommendations for friends and family:
Tiger King follows the story of Joe Exotic and the hundreds of tigers/lions/cubs he has bred and raised. Exotic encounters feuds with other cat lovers such as Carole Baskin, who openly expresses her hate toward Exotic. This feud comes to a head when Exotic is imprisoned for the attempted murder of Baskin
GENRE : Documentary
Gilmore Girls revolves around single-mother, Lorelai,  and her daughter, Rory. They live in a small town on the east coast in Connecticut. Lorelai is faced with a conflict as she made a deal with her parents (they are barely on speaking terms with Lorelai) to have dinner at they mansion every Friday night in exchange for the grandparents to pay for Roy's tuition at a private high school. The viewer watches Rory go through her teen years as she faces different love interests, academic struggles, and insecurities. This mother-daughter duo is admirable and an addicting series.
GENRE: American Drama
Parks and Recreation is a comedy that is filmed documentary style (like The Office) and follows an Indiana Parks and Recreation Department. Lesile Knope  is the congresswoman in this department and is very passionate and determined to maximize her town's potential. It follows romance, friendship, and comedy as you feel as if you are a part of the story.
GENRE: Comedy
All American follows the story of Spencer James as he opens a new chapter to his football career. He gets recruited to a Beverly Hills high school to play on a highly competitive team. Spencer must adjust to his environment with football, family, and friends as he is trying to navigate his new life.
GENRE: Teen Drama