The reality of remote learning
Students face new struggles with online learning, including the loss of valuable class time and social contact.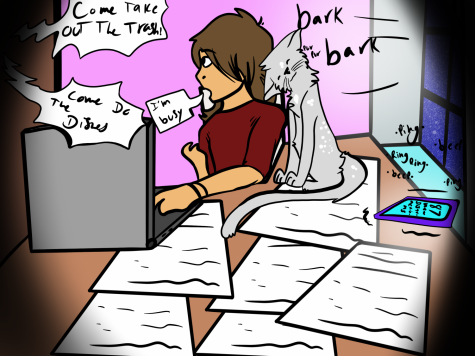 Transitioning to online school hasn't been an easy task for students and teachers alike. While teachers scramble to put together lesson plans to allow students to learn from home, students cope with the stress that online school brings. Although online school is the safest alternative given the current situation, it has led to a loss of valuable class time, less focus on important concepts, and limited social contact with friends.
Surrounded by many distractions at home, students are more susceptible to lose focus and become less engaged in learning. For me, while at school, I always kept my phone out of sight hidden in my backpack, but with online school, I find myself leaving my cell phone on my desk and it pulls my attention away from my schoolwork. I have been on numerous class calls where students become easily distracted by other tasks such as making lunch or talking to a family member.
Students are less likely to be held accountable when not paying attention with the option of turning off their microphone and camera. Teachers cannot see what students are doing like they would in a normal classroom setting.
Because it is so easy to get distracted being at home, students may not learn important concepts as in -depth. AP and IB classes are the perfect example of this. Students spend all year working tirelessly to pass their exams. Now for many classes the shorter exam constricts students from demonstrating their full knowledge of the subject matter.
In addition to distractions and feeling less motivated, students do not have access to the same resources which can lead to a reduced understanding of important concepts.
With online school, students don't have access to attending crucial office hours in person. I attended my math office hours at least once week to clarify questions and topics. While teachers strive to ensure students still have access to help and a quality education, nothing compares to meeting with a teacher in person and having one on one time.
In addition to losing the value of being in a classroom setting, students lose the social aspects of school- which quite frankly is most students favorite part! Although we can't see friends face to face, with today's technology we still have access to staying in contact through face time and skype calls.
In theory, students can learn online through video lessons and reading materials, but nothing can replace the benefits that occur from being inside a classroom, playing on a sports team, being a part of the musical, eating lunch with your friends, and going to school functions. That's what online school is missing and there's no alternative that compares to these face-to-face interactions which makes high school what is.