Real World Danger Online
An examination of the dangers posed by the use of dating apps for teenagers.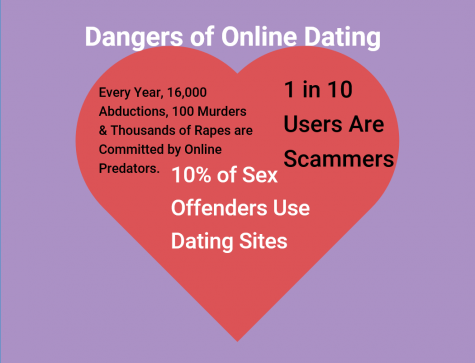 It can seem daunting to find a partner as a teenager when your social reach is limited to the scope of your school. In contrast, dating outside the bubble appears to be an exciting opportunity to try something new and have a first impression. However, teen dating apps such as Hoop, which have grown in popularity over the past year, pose unnecessary risks for the audiences they cater to. While it is healthy for teens to begin expanding their social bubbles and reach new people, the world of online dating is dangerous and best left alone.
The predominant issue concerning online dating sites for teens is the ability for users to lie about their ages. Some sites utilize a photo recognition system which requires users to take a photograph holding up three fingers, yet the stories shared by adult journalists who were still able to infiltrate such sites exposes the lack of security in these apps.
However, most apps offer no security measures to verify the age of its users, allowing anyone to set their age and thus allow themselves to be paired with the age range they desire.
Of the sites claiming to be geared towards teens specifically, Hoop is the most risky. On the app, both the bio and age range of the app scream teen, yet the photo examples display profiles of a sixteen-year-old, seventeen-year old, and twenty-three-year-old. If the app cannot even limit the input of birth dates to its 12-18 age range, it clearly disregards the implementation of protective measures against its younger users.
The app works by allowing users to ask profiles they like for their Snapchat username, thus carrying the relationship over to Snapchat. While the app does protect the privacy of its young users by not freely distributing the usernames and rather utilizing a request system, the use of Snapchat does not protect young users from receiving unwanted explicit images.
While it's one thing to add someone on snapchat whom you know personally and have established trust with, adding strangers on the basis of their profile alone allows for the possibility of unwanted explicit content, and risks being catfished by someone with ulterior motives.
In addition, dating online adds unnecessary risks to the already complicated arena of teen dating. According to backgroundhawk.com, ten percent of sex offenders meet people on dating sites and ten percent of profiles are scams.
As the easy accessibility of these sites by anyone of any age range has been demonstrated, as teen dating sites grow in popularity, these rules may apply to the teen domain of online dating as well. The stress of dating and getting to know someone new is overwhelming enough for teens, and these new concerns raised by dating online overcomplicate the process.
Dating as a teen is not as significant as it is for adults, as teen dating serves as a period of experimentation not designated for the emergence of lasting relationships, but for determining the qualities that one desires in another. To date someone one is already close with, is easier and less dangerous than developing a relationship online.