Dreams to be behind the scenes
As seniors look to the future, many are called to pursue their passions in the film industry.
It's nearly April. The end of the year is clearly in sight. In less than three months, seniors will graduate, no longer high school students. While this is mostly exciting, especially for the victims of the infamous "senioritis," graduation also forces seniors to look at their pending futures with realistic mindsets, especially considering general plans for careers. For students like Chloe Markie and Brian Gilmore, this starts with pursuing film in college to build a foundation for their dream jobs.
Markie has always had an interest in film production. From iMovie music videos to film classes at SMCHS, her road to the Loyola Marymount University School of Film and Technology has been long.
"I always knew people made movies but I wasn't sure how to get there and pursue it as a major," Markie said.
Her plan is to major in Film Production and then pursue it after college. While she is especially drawn to movies, she knows that the film industry is competitive.
"[Film producers] plan the pre-production and it entails cinematography, directing, editing, and even screen writing, so it's all of the things that make the movie into the final product," Markie said. "I really like editing, but I am also down to learn everything about film in college.
On the other hand, Gilmore plans to use film to supplement an Economics or Business major. However, he still knows film will be an important part of his future.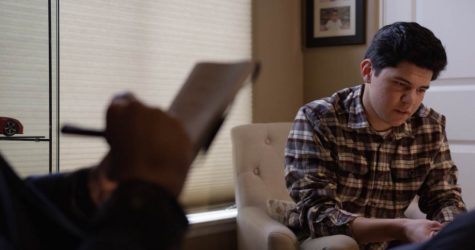 "Taking Film classes throughout high school has made me realize that I have a passion for filmmaking," Gilmore said. "I love the creative freedom filmmaking gives me."
Gilmore only applied to one film-specific school. The process for applying was much more complex because it really measures talent and experience.
"On top of the initial application I had to write many supplemental essays, as well as providing the school with a creative submission," Gilmore said. "For my creative submissions, I wrote a 2 page film concept and submitted a 5 minute film in order to show what I have learned in my film courses at SM. I also had to create a resume that proved my film experience."
If Gilmore finds himself in the film industry, he is aiming high. Just like Markie, being a part of the film industry has always been a dream. For every senior, it is finally the time to start bringing dreams to life.
"If I were to obtain a career in the industry, I would try to work my way up to hopefully one day become a director," Gilmore said. "As a director I would aim to raise awareness for those who struggle with mental traumas. I hope that one day this dream can become a reality."