Walking the sweet walk
Dira Collaro uses her passion for writing and photography to promote positivity in her blog.
Junior Dira Collaro found her passion for highlighting beauty when she received her first digital camera at a young age. Collaro took her creativity to the internet when she created The Sweet Walk, a website showcasing her photography and writing.
"In a world where social media has become such a large platform to share ideas, pictures [and] thoughts, a lot of it can be negative," Collaro said. "I just wanted a space where there was some positivity and encouragement."
Collaro's website features positive quotes, inspirational writings, and portrait photography. Collaro considers herself someone who admires beautiful things, whether it's a sunset or a piece of writing.
"I feel like writing is a way to convey that beauty to other people where they may not see it," Collaro said. "Sort of like sharing my lens [on] how I view things. Photography allows me to make beautiful things."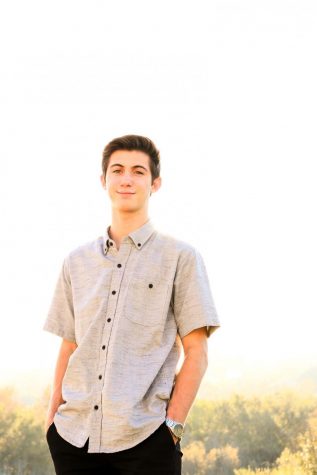 Collaro wants to share her experiences with others in order to promote beauty in difficult situations. Her posts focus on relating to others so they can know they're not alone.
"The mission [is] just to share with other people what I'm going through and hopefully help someone on a relatable note so they know someone else is going through the same challenges and triumphs," Collaro said.
The support from her family inspires Collaro's determination. Her aunt, a college English professor, gives her feedback on all her posts.
"My family has always been very encouraging," Collaro said. "My parents have always told me that you can do anything that you put your mind to."
Collaro uses skills learned at school in a lot of her writing. Although creative writing differs greatly from the essays assigned at school, the skills of rhetorical devices and writing effectively still translate to her posts.
Writing also serves as a way to relax Collaro's rigorous Full IB Schedule. When balancing her academics and social life cause stress, she uses her blog as an outlet to remain calm.
"This year has been the hardest for me academically and mentally, so I think through writing I've been able to pay attention to my mental health," Collaro said.
The Sweet Walk dedicates a whole section on quotes and inspirational pieces of writing. To keep positivity in her own life, Collaro uses a daily motivational words app and keeps her favorite books visible on her desk. She recalls a quote she saw the other day that said, "Either I win or I learn."
"I feel like every experience in life can teach you something," Collaro said. "No matter what you're going through, you may feel like this is the end of the world, but it doesn't have to be. You can learn from every situation."
Collaro continues to write for The Sweet Walk and post on her Instagram photography account. Follow her Instagram account at @amomentremembered and follow her journey at thesweetwalk.weebly.com.