Live from SM
Student Oliva Pannell shares her love of Saturday Night Live
For the past 44 years, "Saturday Night Live" (SNL) has entertained fans across the nation at 11:30pm with satirical and silly skits.  For the past three years, junior Olivia Pannell has been an avid viewer of the comedy show.
"I first started watching it freshman year when Lin-Manuel Miranda hosted it," Pannell said.  "What encouraged me to start watching it was the fact a celebrity who I already knew and liked would be hosting, and then I just kept watching because I liked the show."
Pannell immediately fell in love with the show and watches every new episode Saturday night, right when it airs.  Although Pannell doesn't want to pursue a career relating to the comedy show, she is still inspired.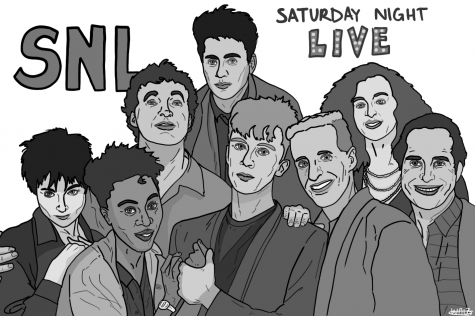 "I watch it because I find it so funny and it impresses me how they can do all that in just a week," Pannell said.
The reoccurring skit "High School Theater Show," which aired from November 22, 2014- December 2, 2016, is Pannell's favorite.
"There are a group of students in a show and they are trying to be really profound and deep but they end up just being cheesy and bad," Pannell said.  "There are two other cast members who are parents in the audience making jokes about how bad it is the whole time."
Each of the five episodes has a guest actor who plays one of the students in the skit.  Some of the actors who have made an appearance include Emma Stone and Fred Armisen.
"I've watched it a hundred times but I still die laughing every time," Pannell said. "Some skits are still funny because they are so well executed, and sometimes it just gets better the more you watch it because you notice more funny things."
For Pannell, the heart of SNL is laughter, which is one of the greatest joys, and connecting to others through the different comedy sketches.
"I think SNL is so popular because It has built up a fan base and respectability over decades," Pannell said.  "SNL helps society with their political sketches informing people about current issues and giving people time to laugh and destress form their daily life."