The big ten
Colleges from all over the Unites States are represented at the Big Ten College Fair.
Deciding where to go to college is a daunting task for all high school students. To help students, Santa Margarita Catholic High School opens its gym for the Big Ten College Fair.
A variety of Big Ten colleges attended the fair including the University of Illinois, Indiana University, the University of Maryland, Michigan State University, the University of Michigan, the University of Minnesota, the University of Nebraska, the Ohio State University, Penn State University, Purdue University and Rutgers University.
There were hundreds of people in attendance at the fair. From local Orange County families to the SMCHS students, everyone was welcome to come and visit the college representatives.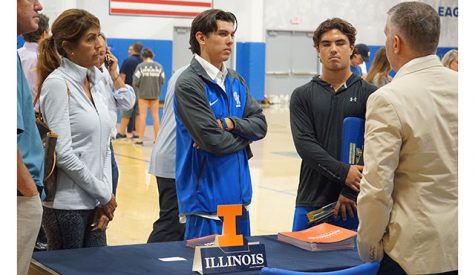 "I attended the fair to get an interest in colleges since it is something that I haven't thought about yet," said junior Tamara Hirschman.
Each of the representatives discussed the admission process for each university and what they could offer to the students. At the fair, students were able to go from table to table learning about the different qualities of each college.
"The fact that I got a lot of brochures allowed to me to see what colleges I like and helped me see what type of colleges I am looking for," Hirschman said.
The fair allows students to look into colleges they may have over-looked and offers them a chance to learn about which college can check all the boxes for what they want in a college.
"While being at the fair I learned that I want to run [cross country] in college because I was able to see how schools formed their own running programs," Hirschman said. "It made me realize that I would like to be in a place with high altitudes, like Colorado."
Students also learned how to form a solid resumé that can display themselves in the best way to get them accepted into their dream school.
This year is the first year this fair has been arranged, and the students are hoping to see it become an annual occurrence.
"I think it should be an annual thing because it really helped open my eyes to all the college options I have," Hirschman said.