Serena Williams controversy: was it really sexism?
Serena Williams' accusations of sexism in tennis has caused a sensation among the tennis community and the world.
Imagine reaching the pinnacle of your career, but having that moment snatched away because someone was not happy that he or she had to abide by the rules.  That's exactly what happened to 2018 U.S Open Women's Singles Champion Naomi Osaka.
Naomi Osaka of Japan defeated Serena Williams of the United States in an impressive two set match of 6-2, 6-4.  Osaka played out of her mind, hitting winners, aces and trick shots.  Williams, on the other hand, was not playing well.  William's coach Patrick Mouratoglou was seen coaching her from the player's box.  Since this is not allowed, the umpire gave Williams a warning.  Later in the match, William's smashed her racket out of frustration.  This also goes against the rules of the WTA.  Since she already had a warning, the umpire took a point away from her which is the required penalty for this offense.  This angered Williams and she proceeded to call the umpire a thief.  Again, Williams was breaking another rule of the WTA, which is disrespecting the umpire. This ultimately led to the umpire taking a game from her, which is the required penalty for this infraction.  Furious, Serena accused him of punishing her because she is a woman.
William's comments about sexism in tennis caused a reaction throughout the country, and many celebrities stepped forward in her defense.  Here is where I have an issue.  Williams deliberately broke three rules of a tennis match.  She participated in illegal coaching during a match, smashed her racket, and was disrespectful towards the umpire.
As a tennis player, I know how frustrating the game can be, but there is no excuse to throw a tantrum on the court and blame the umpires for being sexist.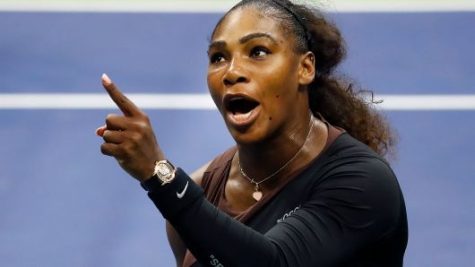 Williams accused men of not getting punished for their actions, but evidence proves otherwise.  In the past, tennis players like John McEnroe, have screamed their frustrations at the umpire.  John McEnroe has been fined 14 times for his behavior on court, which has cost him $69,500.  He was also disqualified from matches for his behavior which is a more intense punishment than having a game or point taken away. According to the New York Times, there have been 1,517 cases of male misconduct on the professional courts compared to 535 female cases.  Evidence shows that men are punished approximately 3 times more than women which proves William's accusations to be incorrect.
So now we must ask ourselves: was Serena Williams really treated unfairly because she is a woman?  The answer is simple: no.  Williams deliberately broke three rules and deserved all penalties assessed against her.  What she did was wrong, but she tried to blame the umpire for her mistakes.  Many people have praised her for her "bravery," but I believe that people should not be recognizing her for her bravery, but rather for her pettiness and refusal to take responsibility for her actions.
The controversy that Serena Williams caused at the U.S. Open distracted the world from Naomi Osaka's major victory.  A rising star's breakthrough was overshadowed by a sore-loser who would not take responsibility for her actions.  Serena Williams has been a part of the WTA for over 10 years and is a role model for many young players.  Because of this fact, Williams should know how to compose herself on court and take losing like a champion, not a victim.