ETV 2.0: Behind the Scenes
Told by the people who make it possible
Aidan Ocampo, Web Editor-in-Chief | Photo Editor
Feb 12, 2018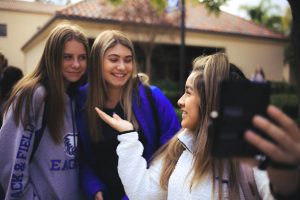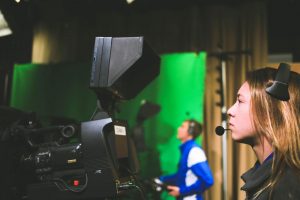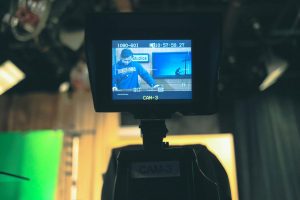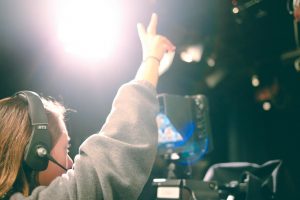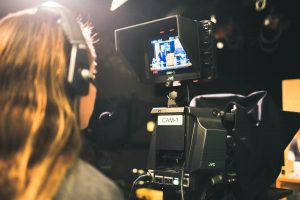 The bland tone plays across the school PA system, calling the students attention. The screens in class transition into ETV 2.0. At this time many students are often skyping or talking to their friends or doing last minute studying before a quiz instead of watching the school's daily broadcast. They may glance up to see the familiar faces of senior Garrett Domier or Nickel News but then turn back to their previous task. But do students realize what goes on behind the scenes?
Each host and segment host have a different view on ETV. For some, ETV allows them to try something new and for others, it is an activity very special to them.
"It was nerve-wracking at first because you are thinking about 1700 students watching you," Domier said. "But then you think 'when I'm in class how much attention am I really paying?'"
Elizabeth Bondy, class of 2020, joined the ETV team this year thinking it was something she would be good at and ended up really enjoying it
"It's really exciting," Bondy said. "I get a little bit nervous but it's mostly just the anticipation, but they make it really easy with the technology we have."
For Bondy, ETV has not really changed the way that people treat her around campus. However, that's not the case for all hosts.
Senior Ryan Marks joined ETV to try something new but also to get over a fear of public speaking. Because of his role on ETV, it has also had a positive effect on the way he is treated around campus.
"Since I joined ETV it's really interesting to see a lot of underclassmen walking by me and saying hi," Marks said.
Though most hosts have shared that ETV is an overall great experience, segment host Nicole Rios sees a different perspective on ETV. Rios, class of 2020, started her own segment this year: Nickel News. This now popular segment is scheduled to appear weekly every Friday.
"Last year I didn't have anything that I enjoyed, but this year I have Nickel News and it keeps me busy and it's something that I love," said Rios.
Despite the hard work and extensive amount of time that Rios puts into her segment, she does not get the response she would like from the student body.
"Every time I go to class at least one person will say 'Oh look it's Nickel News'," Rios said.
When the Nickel News intro plays across the entire school, students have a variety of reactions. The cherries and checkered pattern, unique to Nickel News, take over the screen in class and transition into Rios' segment. Rios interviews students around campus based on topics of the student body's interest. However, the segment has drawn a negative attention to her.
"When they saw me, they kept trying to take pictures of me, I saw her go up to her friend and she was laughing," Rios said.
Rios opened up about various stories that involve students making fun of her due to her segment. However, Rios works endlessly to deliver content to the entire campus. She spends hours editing and perfecting the segment before the deadline.
"It made me want to quit, but at the end of the day it's the only thing that keeps me happy and it's something that I genuinely like to do," said Rios.
In the real world of media, content creators are criticized relentlessly but learn to be immune to it.
"Some people don't realize that it takes hours and hours of work to create [a segment]," Rios said.
Those behind the camera work just as hard as the hosts and segment producers such as sophomore Alex Barnes. Barnes works the main camera shot of the hosts that are often seen in the show.
"It's a little intimidating at first. Once you get the gist its fine," Barnes said.
ETV is the result of the passion and perseverance of a group of students dedicated to providing ETV for the school. Each derives their own purpose from the production, finding ways to develop professional skills.
"It's a gratifying experience, they are learning how to work together as a unit for something really good," said Paul Higgins, ETV advisor, and TV production teacher.
Higgins, the Director of the School of Broadcast Journalism and Television, guides these students through the steps of creating such a large-scale production. Every day he invites new ideas and ways to continuously improve the show.
"I would like to see everyone come in here," Higgins said. "I invite every teacher to come in here and see what we do."