Flying through the sky
The US Bank tower offers a glass slide ride for the public's entertainment.
Hang on for a minute...we're trying to find some more stories you might like.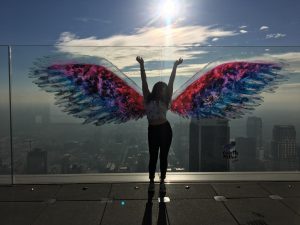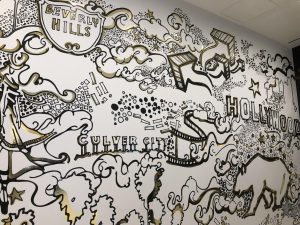 There is a glass slide on the 70th floor of the US Bank towers exterior in Downtown Los Angeles that allows visitors to slide from the 70th floor to the 69th.
However, the thrill of the slide comes towards the end of a visitor's experience.
A mural of the major LA landmarks sits in the entry way featuring things like Beverly Hills, Culver City, Hollywood and the California bear. After making it through security, elevators take visitors up to the 50th floor where they are let out into an exhibit.
The exhibit features an interactive screen that detects a visitor's body and fills it with dots tracking his or her movements. Other features include m  ultiple videos, hosted by George Lopez,  highlighting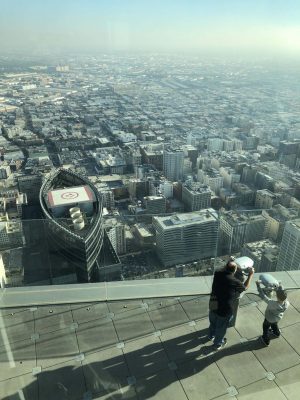 historical events in LA, its neighborhoods and its teams and attractions.
Once visitors are finished in the exhibit, they enter another elevator which takes them to the 70th floor of the building. When the elevators open, visitors are blinded by the light coming through the glass walls that look out onto downtown LA.
From the indoor and outdoor observation decks on either side of the building visitors can see major parts of downtown LA, Dodgers Stadium, the Griffith Observatory and the Hollywood sign.
Visitors have great photo opportunities on the decks including one area where the social media famous wings mural is stickered onto the glass wall.
Finally, it's time for the main attraction, the sky slide, which opened to the public on June 25, 2016. Guests step up to a platform, into a cloth sled and whizz down the 45-foot glass slide about 1,000 feet above the streets of downtown LA.
After the thrill of the slide, visitors can enjoy the sights of Los Angeles from above for as long as they wish.