Former Chief Justice Roy Moore loses Alabama Senate race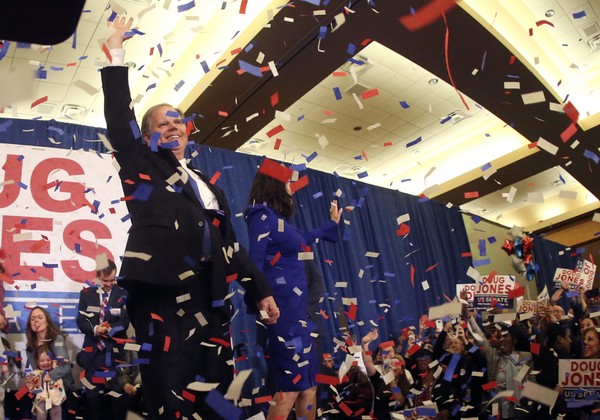 Republican candidate Roy Moore lost the Alabama Senate race to Democrat Doug Jones on Tuesday, Dec. 12, making history as Alabama's first Democratic Senator to be elected in the last 25 years. Moore's loss came about amidst sexual assault accusations filed against the former Chief Justice.
Despite the five public allegations filed against him, Moore continued his campaign, claiming that his accusers were trying to damage his reputation. Shortly after, President Donald Trump vocalized his support for Moore, excitedly encouraging Alabamians on Twitter to vote for the Republican candidate.
"LAST thing the Make America Great Again Agenda needs is a Liberal Democrat in Senate where we have so little margin for victory already," Trump wrote. "The Pelosi/Schumer Puppet Jones would vote against us 100% of the time. He's bad on Crime, Life, Border, Vets, Guns & Military. VOTE ROY MOORE!"
Even with loyal Republican voters and the president's endorsement, Moore was unable to secure a spot in the Alabama Senate. According to an analysis by The New York Times, Jones's campaign message of unity appealed to black voters and educated white voters, causing many to turn their backs on the Republican party and vote Democratic: a first for the deeply conservative state.
"Never has there been this level of civic engagement," said Sue Bell Cobb, a former Alabama Chief Justice, in an interview with The New York Times.
Jones's unprecedented victory foreshadows an unstable year for Republicans: with the addition of the Democrat, Republicans' already-slim Senate majority is whittled down to 51-49. This could significantly impact the results of upcoming Senate bills, including the controversial Republican tax bill.
"Doug Jones should be seated immediately – before we vote again on the tax bill," wrote California Senator Kamala Harris on Twitter. "Alabama voters deserve to have their voice heard in this fight."
Senator-elect Doug Jones promised in a statement to stay true to the Democratic platform and work across party lines for the best interest of Alabama. His victory carries a significant amount of weight, and only time will determine how this election transforms American politics in 2018.