SOCOMUN XXVI
Santa Margarita hosts its annual SOCOMUN conference.
Mia Ross, Staff Writer
September 28, 2017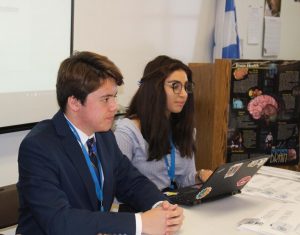 Every year, hundreds of students from schools throughout Orange County attend Santa Margarita's South Orange County Model United Nations (SOCOMUN) Conference. Dressed in standard business attire, the delegates join together in the Moiso Family Pavilion at the start of an eight-hour day of intense debate surrounding pressing global issues.
The 26th installment of SOCOMUN was held on Saturday, Sept. 23. According to senior Gabe Reyes, a delegate with four years of experience, the preparation process was lengthy.
"We began preparing for the conference at the end of the last school year by writing our topic synopses then," Reyes said. "But most of our preparation started towards the start of this school year, which involved training, meetings, and setting up. In total, it took about a month."
Santa Margarita is known for the quality of its MUN program, making SOCOMUN a phenomenal learning environment for novice delegates. Reyes held the chair position of a freshman committee and was responsible for introducing brand-new students to the world of MUN.
"Alongside my co-chair, legal, and secretary, I taught them the basics of MUN," Reyes said, "how conferences work, what motions and procedures there are, how they should prepare, what they should cover in their speeches, and what type of comments are most effective."
Reyes explained he and the rest of his committee worked very hard to make the day as organized and enjoyable as possible for their delegates. Reyes believes the freshmen learned something new about MUN and how global policy works.
"My committee ran very smoothly and enjoyably, and I felt the kids had a better understanding of MUN by the end of it," Reyes said. "Outside of my committee, it looked like many people were enjoying themselves and learning about prevalent international issues. It was definitely my favorite year of SOCOMUN yet."
Although SOCOMUN is an increasingly large conference, SMCHS's MUN students felt they pulled it off gracefully. They credit their dedication and passion for the program, which fueled the energy in the air at the awards ceremony where students were recognized for their accomplishments.
"For being such a huge conference, Mr. Remmell and the rest of the leaders ran it super well and it wouldn't have been so successful without them," Reyes said. "It's a great first conference of the year for many students from many schools, and there couldn't be a better setting in which to learn about and enjoy MUN. It was a bittersweet last SOCOMUN, but I'm super happy it went so well, and I know it will continue for years to come."
Now that SOCOMUN 2017 has come to an end, the MUN class looks ahead: their next major conferences are the Edison Advanced Conference and Tustin MUN, to occur later this year.