Increasing faith one step at a time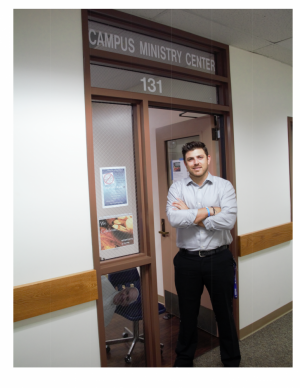 Campus Ministry is in charge of the school's service projects, classes, and retreats and Patrick Visconti, the new Campus Ministry director, is in charge of all campus ministry related activities and celebrations.
Visconti is starting his new position ambitiously. So far, he has changed the monthly masses as well as other basic programs in Campus Ministry.
"We have daily mass every day at 2:15 p.m. every day for about 10 to 20 minutes," Visconti said. "I think that's something we have changed and it is a beautiful way to end the day."
Visconti is pushing for student involvement and encourages students to become a part of the Campus Ministry family and community by having the upper-class men help the underclassmen through retreats and being role models.
"There are definitely ways to come in and be a part of Campus Ministry and to be involved," Visconti said. "We always have our doors open."
Visconti wants each grade level to get involved in service projects as well as to help strengthen their faith.
"Everyone should go on their grade level retreat and also their service program so getting engaged with that is really huge," Visconti said. "We also have XLT'S where we have the opportunity for freshman to seniors to come together for praise and worship."
Being in a classroom environment is not new for Visconti. He came from Loyola Marymount's Campus Ministry Office and taught at Servite High School. Visconti is looking forward to being able to combine the classroom and Campus Ministry at SM especially since he is alumni.  He's hoping this experience is able enables him to help students grow deeper in their faith.
"There's a lot that's happening in Campus Ministry and in the classroom and in the office," Visconti said. "There's a ton of students coming in and out it is really fast pace, but really exciting."
Seniors in Peer Ministry such as Andrew Concialdi have welcomed him with open arms and can't wait to see where the rest of the year will take them.
"We are really blessed to have Mr. Visconti here this year being his first year," Concialdi said. "I was really excited to know him and he is such a great guy."
Visconti hopes Campus Ministry will make a good impact this year and for students and teachers to reach their religious goals.
"My single largest personal goal for Campus Ministry is to be visible and also to work with all the teachers on campus," Visconti said.