Melody's got talent
Junior Melody Tajalli auditions for America's Got Talent.
Junior Melody Tajalli decides, after 10 years of singing, to take her career to a bigger stage: America's Got Talent. Tajalli set out to have an audition and didn't look back.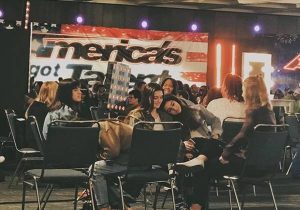 "Auditioning was a decision my family and I made early last year," Tajalli said. "I saw it as a learning experience and definitely had a lot of fun with my friends."
This was still a big change from smaller, local pe
rformances she had done since 1st grade to being in front of judges and a large crowd of people.
"When I walked into the producer's room to audition, I was so excited and anxious to get up there and sing for them," Tajalli said. "Once I finished I felt a wave of different emotions: joy, happiness, excitement, and anxiety."
Even though Tajalli didn't make the show, the audition gave her experience and helped her grow as an artist. Tajalli still expresses her love for singing, now a year later, in everything she does from posting musical videos on Instagram for her 60 thousand followers, to being a choir singer.
Tajalli is tremendously thankful for her friends and family as well as the support they give her. Although America's Got Talent didn't work out, she plans to continue singing.
"I am so grateful to be surrounded by such optimistic and supportive people who bring out the best in me," Tajalli said.