Blast from the past
Science teacher Megan Vanni's idol, Bill Nye, teaches her a few lessons.
Hang on for a minute...we're trying to find some more stories you might like.
As the VHS tape starts to play, the familiar "Bill, Bill, Bill, Bill Nye, the science guy!" rings throughout the room. Students turn their heads towards the catchy tune of the Bill Nye show, paying closer attention to Bill than they do their teachers.
Bill Nye has been the face of science videos for students from 1993 to 1998, and recently on May 30th to April 2nd, science teacher Megan Vanni got a chance to meet him.
Growing up, Vanni was passionate about the Nye videos she watched, going out of her way to get her fix of the science guy.
"I used to go to the library a lot when I was a kid and I would rent [Nye's] VHS tapes and watch them at home," Vanni said. "When I was at home sick, those were the videos I would watch."
Nye's videos inspired Vanni to follow a career path centered around science.
"[Nye] has always been the influence of me becoming a science teacher and also got me interested in science," Vanni said.
Vanni attended the National Science Teachers Association conference (NSTA) in Los Angeles, California for a chance to meet new people and learn new teaching techniques. The purpose of the NSTA was to inform other science teachers about scientific education. Bill Nye was the key-note speaker promoting science education for students.
"[The conference was] a bunch of science teachers that all get together once a year from all over the United States and even some from other countries," Vanni said. "We mostly talk about science and nerd out for a couple of days. [Also Bill Nye] was there to talk because he is a very big advocate for science education."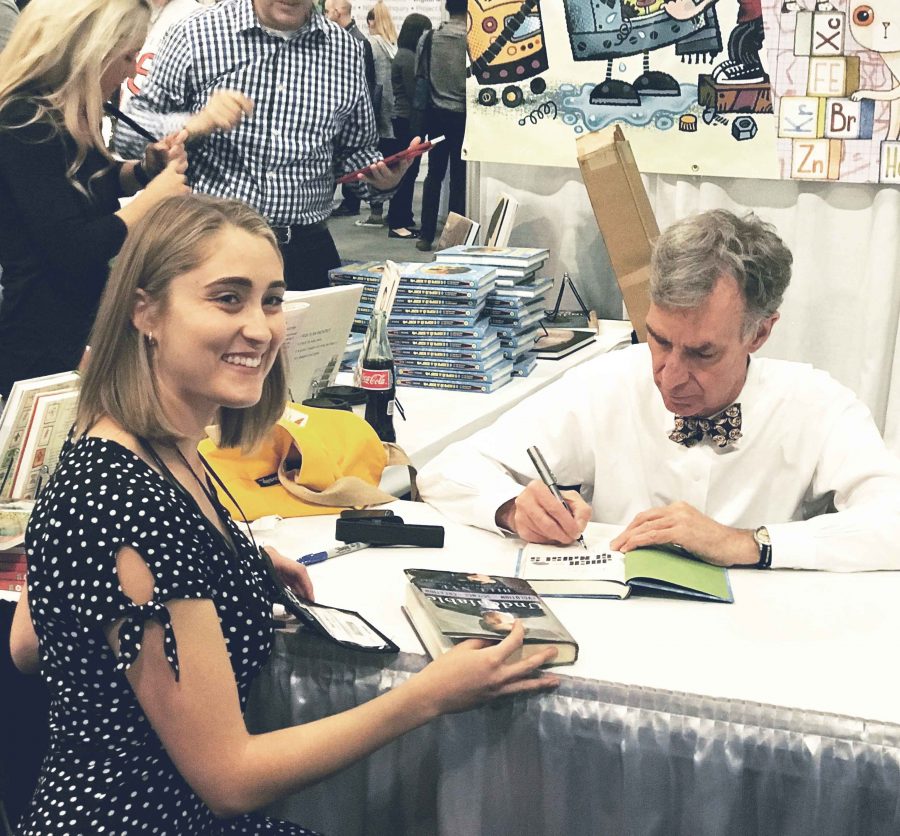 courtesy photo
As Nye spoke, he also discussed his experiences of working in big companies, such as Boeing and NASA, and also to help educate teachers with recent scientific discoveries.
When the opportunity arose to meet Nye, Vanni rushed to take advantage of the opportunity and was finally able to meet her childhood inspiration.
"When I went to actually meet him I was so nervous," Vanni said. "[While talking to him,] it was really great to hear some of his responses. It was awesome."
During their conversation, Vanni got the to talk about Nye's book and about her students.
"We discussed some of the chapters in his book [that were] some of my favorite chapters," Vanni said. " [I] also told him about my students here at [SMCHS] and how excited they were about my coming there to see and meet him."
Vanni's first impression of Nye was exactly as she always expected: quirky yet intelligent.
"He is a total nerd, super goofy, and he is exactly like what you would expect as the nerdy science guy," Vanni said. " He really believes in education and really promotes kids getting involved in science and in STEM careers."
After the conference, Vanni came home with new techniques and the experience of meeting her childhood inspiration.